By Seth Doria
Arizona Summer Wildcat June 18, 1997

Lute's basketball camp is a 'rigorous but fun experience'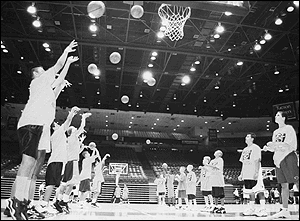 Robert Henry Becker
Arizona Daily Wildcat

High school-aged boys attending the Lute Olson basketball camp practice basketball shooting techniques Monday morning under the guidance of coach Mike Casteneda. The groups of boys alternated among six different stations, each instructing a different tech nique.


The mobs of children clad in matching white T-shirts on campus lately are not the newest crop of micro-freshmen or a university ploy to increase enrollment.

They are, in fact, the 342 youngsters in grades 3 through 12 who are at the University of Arizona to attend this year's Lute Olson Wildcat Basketball Camp.

These children participate in hours of drills and lectures in the Student Recreation Center, Bear Down Gym and McKale Center in hopes of improving their basketball games.

The camp, which is separated into four week-long sessions, is a rigorous but fun experience, said Jim Rosborough, camp organizer and assistant men's basketball coach.

"We try to teach them basketball intensity and make it fun," he said.

While Rosborough runs the daily activities of the camp, Olson makes frequent visits to meet the campers and "impart some words of wisdom," said the assistant coach.

The campers, who spend nearly 10 hours a day working on fundamentals such as dribbling, shooting and defensive footwork, are split into three age groups.

They are directed by coaches from around the country who feel that the camp provides both a service to the children and a learning tool for themselves.

Mark Soderberg, who played under Olson at Marina High School in Huntington Beach, Calif. in the 1960s, said he is participating in the camp because of an experience he had when he was young.

"When I was their age and struggling, one man helped me and gave me an opportunity," he said.

"That man was Lute Olson.

"I went from the bench to having a scholarship at Kentucky and playing for Adolph Rupp," Soderberg said.

Dan Twomey, the head basketball coach at Manchester Community Technical College in Manchester, Conn., said being at the camp improves his abilities because of the coaches, such as Olson and Rosborough.

The campers also said they take home many benefits from the camp.

John Zilka, a 13 year old from Chicago, said the coaches stress order. "You've got to hustle, you've got to listen, respect and obey," he said.

Zilka said he believes doing these things will help him become a better basketball player.

This year's enrollment reached a record high for the 19-year-old camp, partly due to the Wildcat's recent National Basketball Championship, Rosborough said.

Some members of the championship team, including Jason Terry, Eugene Edgerson and Miles Simon, will help with this year's camp.

Rosborough said that when the players volunteer to speak to the children, they also have to help run drills or coordinate camp activities.

In past years, former Wildcat players including Reggie Geary, who went through the camp himself, have made appearances, but this year that was not possible due to scheduling conflicts, said Rosborough.

The cost for one week at the camp, including meals and housing at Hopi or Navajo-Pinal-Sierra residence halls, is $295. For campers who commute, the cost is $245.

Rosborough said that while the price may imply to some that Olson and the university are reaping huge profits, the money must go toward salaries for about 30 coaches, counselors and administrators, rent for dorm rooms and three meals a day for the campers .

The two remaining camp sessions will be from June 23 to June 27, and June 27 to June 31.

Women's head basketball coach, Joan Bonvicini, will be conducting a basketball camp for girls tomorrow through Monday, and from August 7 through August 10.

See next week's Arizona Summer Wildcat for a closer look at the Joan Bonvicini Hoop Camp '97.