By Mary Fan
Arizona Daily Wildcat March 9, 1998

Educators learn unbiased ways to spot gifted kids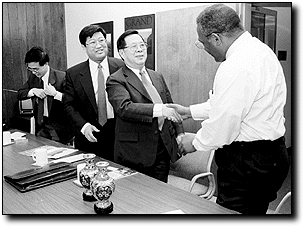 Kristy Mangos
Arizona Daily Wildcat

Three out of four visiting Chinese educators (from left), Weng Ruimin, Wang Wuxing, and Ni Chuanrong, meet with Dean John Taylor early Friday morning. University representatives will be working with the Chinese to plan an Interactive Learning Center involving Chinese and American secondary students in the summer of 1998.


Arizona Daily Wildcat

Four of China's top educators on a whirlwind first-time United States tour touched down at the UA Thursday and Friday to learn about a program that identifies gifted individuals through innovative new tests.

Members of the College of Education's Discover project believe gifted children could be identified by looking at how they weave stories from pictures or play with building blocks, said Aleene Nielson, assistant professor of special education and one of the project's creators.

These activities are part of tests devised to identify seven areas of giftedness based on a theory put forth by Harvard University Professor Howard Gardener in 1983, Nielson said.

Gardener held that giftedness is not limited to linguistics and mathematical reasoning - two areas traditionally tested. She identified seven areas of intelligence: linguistic, logical-mathematical, spatial, musical, bodily kinesthetic, interpersonal and intrapersonal. The tests are meant to eliminate race or gender bias in picking out bright students, she said.

The College of Education devised non-gender or race-based assessments of these areas that center around observations of students as they complete tasks with malleable puzzle pieces and blocks, Nielson said.

"You can tell by what their building what they're thinking," she said.

Nielson recalled watching one child construct a clown and sloping its body at a precise angle so the eyes of his creation would stay in place.

Such hands-on evaluations make certain the test is in a universal language, she said.

Nielson said studies showed that traditional assessments had biases towards identifying as gifted an abnormally large percent of Caucasian males who were the oldest or only child and from upper or high middle-class families.

"One of the things that became clear is that children from certain groups - Native American, Hispanic, black, recent immigrants and children from rural areas - didn't do well on those tests," she said.

Traditional assessments also neglected some areas of intelligence, she said.

"You were essentially measuring two kinds of school-based knowledge rather than anything else," Nielson said. "So if you think in a different way that the logical-mathematical European culture, you didn't do well."

She said the Discover project hopes to correct these errors at test schools in Tucson and across the United States that have diverse student bodies.

The program has already identified hundreds of students and placed them in enriched programs that nurture their particular talents, Nielson said. These children do as well or better than children identified through traditional assessments, she said.

The four educators first learned about UA's Discover project at an international conference on education held in Beijing last summer and were intrigued, said Ni Chuanrong, president of the Beijing Institute of Education said through a translator.

"We have people take part in programs very similar to this but we want to bring back some new ideas," he said. "I am sure we will be rewarded by exchanging issues of common concern."

Training secondary school teachers is one issue that the educators discussed during a brief goodwill visit with John Taylor, College of Education dean.

"It seems like we are doing exactly the same work," Chuanrong said. "What a pity it is we don't have more time together."

He invited Taylor to visit his Institute in July.

The Chinese visitors presented two ornate cloisonné vases to the College of Education.

They left with four UA Wildcat mugs.

"Mainly, we want to survey some basic education and explore the commonalties facing China and the USA towards the challenges in the twenty-first century," Chuanrong said.