By Rachael Myer
Arizona Daily Wildcat April 7, 1998

Refunds available when vending machines eat money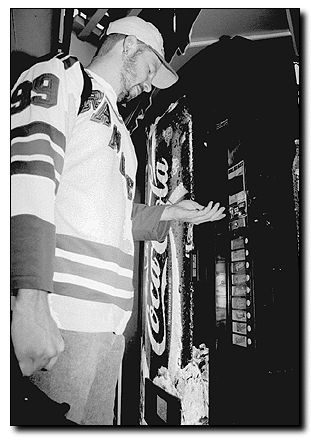 Gregory Harris
Arizona Daily Wildcat

Physiological sciences senior Troy Fellger looks through his change before buying a soda from the Coca-Cola vending machine in the Memorial Student Union. The university may be changing the way soda vending works on campus.


Although hungry students occasionally have a tough time securing their Diet Dr Pepper, Starburst candies and Cheetos from UA vending machines, Student Union officials say refunds are easy to get.

"It (a vending machine) took my money and didn't give me the food," said geography graduate student Seamus Rogan. "I didn't try to get a refund. I wouldn't know who to call, and I doubt they would believe me and I wouldn't get my money anyway."

Students who request refunds are referred to the CatCard Office, where they can be reimbursed immediately, said Jeff Garmon, UA's vending route supervisor. He said refunds are sent to faculty via campus mail.

"We try to encourage people to get their refunds," Garmon said. "We are not here to rip them off."

Students and faculty receive refunds differently because no campus mail system exists for off-campus students, Garmon said.

The CatCard Office does not allow students to keep a running total of money lost in campus vending machines. Instead, they must make a claim after each loss, said Robert Lanza, a CatCard office specialist. He said the maximum reimbursement is $5 per visit.

The 350 vending machines at 90 different locations on the University of Arizona campus are "profitable" parts of the Student Union's budget, Garmon said.

A computer system, which keeps track of vending machine sales, usually does not indicate a discrepancy between items sold and money collected, Garmon said.

"People don't understand they are doing a disservice to the next people using the machine (by not reporting a malfunction)," Garmon said.

UA's Vending Department receives between eight to 10 service calls daily, but some malfunctions are never reported, Garmon said.

"The food gets stuck sometimes and just stays there," said computer engineering freshman Laura Parra. "Sometimes I try to get it again and I end up wasting twice as much money."

About twice a month, a machine will be vandalized, Garmon said. Most damages, he said, occur in residence halls.

The Memorial Student Union and Coronado Residence Hall have the busiest UA vending machines, Garmon said.

Machines, which make snacks convenient for students, faculty and staff, are placed in buildings when they are requested, he said.

Candy put in the machines is purchased from a local distributor in large quantities to keep prices as low as possible. One-third of the soda machines are contracted to Coca-Cola Bottling Co., one-third to Pepsi-Cola Bottling Co., and one-third to Kalil Bottling Co., Garmon said.