Wildcats successful on Pac-10 road trip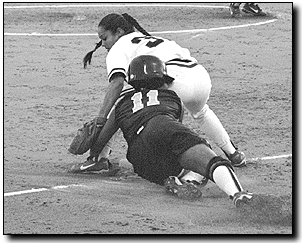 Eric M. Jukelevics
Arizona Daily Wildcat

UA sophomore third baseman Toni Mascarenas (32) tries to tag out a California player during a game against them earlier this year. The softball team came away with three victories during their trip to Oregon this past weekend.


The No. 3-ranked Wildcats dropped their first game of a four-game trip to Oregon to the Ducks, but quickly got it together to bring home three victories, including two over Oregon State.

"We did really good overall," sophomore third baseman Toni Mascarenas said. "We did the little things right that had caused us problems earlier. And we really played together as a team."

The Wildcats (40-10 overall, 12-6 Pacific 10 Conference) began play at 1 p.m. Saturday, and took the lead over the Ducks (33-18 overall, 6-10) 1-0 for six innings off of sophomore shortstop Felicity Willis' first home run of the season.

In the seventh inning, Ducks pinch hitter Maegan Christie lead off the hitting with a home run and was followed by teammate Holly Ray's homer on the next pitch. UA sophomore pitcher Becky Lemke took the 2-1 loss.

"In the first game we didn't come out and hit the ball," Mascarenas said. "We only scored one run for Becky to work off."

In the beginning of the second game with Oregon, the Ducks continued hitting home runs, scoring two runs in the first off Katie Mackey's home run to center field.

In the second inning, UA sophomore left fielder Lauren Bauer drove in some runs for Arizona with a three-run opposite field shot over the left field fence. The Wildcats added more runs in the fifth and sixth innings, coming away with a 6-5 win over the No. 17-ranked Ducks.

Sunday saw the Wildcats make a clean sweep of Oregon State 2-0, 11-2 with Lemke (21-6) picking up her first win of the weekend and freshman Jennie Finch (19-4) her second.

"We made none of the little mistakes like we have in the past," Mascarenas said.

The star of the Oregon State (38-15, 9-7) series was UA sophomore center fielder Nicole Giordano, who gave the Beavers something to fear every time she step up to bat in the second game, going 5 for 5.

Giordano scored two runs and captured four RBI off her five hits, helping UA earn some bittersweet revenge over the Beavers, who knocked the Wildcats out of championship play last month at the Kia Klassic Tournament in Fullerton, Calif.

"We didn't really go out there any different," Mascarenas said of the Wildcats' first sweep of OSU this season. "We took it like it was any other game and just focused on limiting the mistakes and playing Arizona softball."