Basktetball Player Profiles

By Maxx Wolfson
Arizona Daily Wildcat

No
Name
Po.
Ht.
Wt.
Year
2
Isaiah Fox
C
6-9
269
So.
3
Will Bynum
G
5-11
193
So.
4
Luke Walton*
F
6-8
245
Sr.
11
Jason Ranne
G
6-4
195
Jr.
12
Fil Torres
G
6-2
195
Sr.
13
Chris Rodgers
G
6-3
203
Fr.
20
Salim Stoudamire
G
6-1
176
So.
21
Hassan Adams
G
6-4
201
Fr.
22
Jason Gardner*
G
5-10
191
Sr.
24
Andre Iguodala
F
6-6
200
Fr.
33
Rick Anderson*
F
6-9
225
Sr.
34
Dennis Latimore
F
6-8
238
So.
44
Chris Dunn
F
6-6
170
Fr.
45
Channing Frye
C
6-10
235
So.
* denotes team captain
Coaches
Lute Olson - Head Coach, 20th year at Arizona
Jim Rosborough - Assoc. Head Coach, 14th year at Arizona
Rodney Tention - Asst. Head Coach, sixth year at Arizona
Josh Pastner - Assistant Coach, first year at Arizona
Ryan Hansen - Coordinator of Basketball Operations
---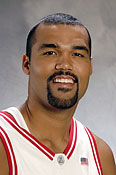 Isaiah Fox - In nine starts last season, Fox gave the Wildcats much added depth at both the center and power forward positions. The Santa Monica, Calif. native (Crossroads High School) averaged 4.4 points and 4.0 rebounds in his freshman campaign. Fox is known for his strong hands and ability to rebound the basketball. He needs to get rid of his quiet demeanor on the court and become more aggressive down low under the basket on both sides of the court. Had a career-high 12 points against Illinois in his first game off the bench.
Fun Fact: Isaiah was born on the same day that Lute Olson was named head coach at Arizona (March 29, 1983)
Season
G-GS
FG-FGA
3FG
FT-FTA
RB
Ast
Blk
Stl
Pts-Avg
2001-2002
33-9
52-108
0-1
40-70
131
5
8
10
144-4.4
Totals
33-9
52-108
0-1
40-70
131
5
8
10
144-4.4
---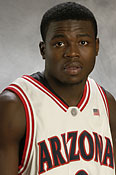 Will Bynum - During media day, Lute Olson warmed everyone there that nobody would recognize Bynum this year. Not because of the fact that he won't be donning a headband this season, but rather because he has a new mentality on the court. It's pass first, shot second. As a freshman last season, Bynum struggled at times when he was handed over the point guard duties but Olson has a new found trust in him. He has been the backup to All-American candidate Jason Gardner in practice and could be a big factor in helping Gardner get some much needed time on the bench this season. After his 6.4 point average last season, this athletic gifted high-flyer from Chicago (Crane Tech Prep High School) feels he has matured enough in the off-season to increase his numbers. Some thought he would transfer after the season, but Bynum said he is here to stay, playing time or not.
Fun Fact: Was one of the featured Chicago-area players on Fox Sports Net show "Preps"
Season
G-GS
FG-FGA
3FG
FT-FTA
RB
Ast
Blk
Stl
Pts-Avg
2001-2002
31-9
73-212
25-98
26-40
48
44
1
21
197-6.4
Totals
31-9
73-212
25-98
26-40
48
44
1
21
197-6.4
---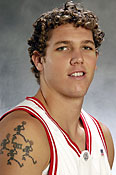 Luke Walton - The fifth-year senior was named a Naismith Award candidate along with fellow senior Jason Gardner. One of the three tri-captains for UA this season, Walton is listed as a power forward but at times plays more like a point guard. An exceptional passer, he will have plenty of assist opportunities this season with all the Wildcat athletic ability. The San Diego native (University High School) was named to four All-American teams following his junior season as well as being named the Pac-10 Conference Tournament Most Valuable Player. He averaged 15.7 points per game and 6.2 assists in 2002, more than 10 points better than his sophomore season. He redshirted in the 1998-1999 season because of a stress fracture in his right foot.
Fun Fact: Will play against brother Chris, when the Wildcats take on San Diego State on the road on Dec. 7.
Season
G-GS
FG-FGA
3FG
FT-FTA
RB
Ast
Blk
Stl
Pts-Avg
1998-99
Redshirted
1999-2000
34-19
65-184
11-55
52-73
138
131
21
36
193-5.7
2000-2001
36-6
74-176
9-41
41-61
140
115
11
39
198-5.5
2001-2002
31-31
174-370
17-60
122-179
227
194
19
50
487-15.7
Totals
101-56
313-730
37-156
215-313
505
440
51
125
878-8.7
---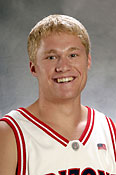 Jason Ranne - It seemed like Jason Ranne was in the right place at the right time. In the off-season, the shooting guard was awarded a scholarship. He will be counted on to come off the bench and be ready to knock down a three-pointer. During the summer in Australia, Ranne averaged 4.3 points and 2.5 rebounds per game. He played 236 minutes Down Under (including three starts), which was nearly 10 times his, career total of 28 and actually topped that total in three games. After walking on in the 2000-2001 season from Bishop Kelley High School in Tulsa, Okla., "Rain Man" played more minutes in his freshman year than his sophomore.
Fun Fact: His father Richard was a UA basketball player in 1971-1972.
Season
G-GS
FG-FGA
3FG
FT-FTA
RB
Ast
Blk
Stl
Pts-Avg
2000-2001
9-0
0-3
0-2
0-0
1
0
0
0
0-0.0
2001-2002
6-0
2-3
1-1
0-0
2
2
0
0
5-0.8
Totals
15-0
2-6
1-3
0-0
3
2
0
0
5-0.3
---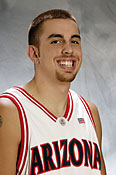 Fil Torres - If you think making the UA basketball team as a walk-on, look no further than Torres. He made the team during tryouts. Olson said that Torres is a guy who really understands his role. Well his role can be defined as being whatever Olson tells him to do in practice. The former Naperville North player in Lisle, Ill., played two minutes for the Wildcats last season. He has taken one shot in his two games played - a three-pointer - but missed it.
Fun Fact: Is a longtime suffering fan of the Chicago Cubs
Season
G-GS
FG-FGA
3FG
FT-FTA
RB
Ast
Blk
Stl
Pts-Avg
2001-2002
2-0
0-1
0-1
0-0
0
0
0
0
0-0
Total
2-0
0-1
0-1
0-0
0
0
0
0
0-0
---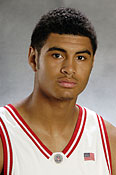 Chris Rodgers -Rodgers almost never even made his Wildcat debut after not scoring high enough on his SAT scores out of Woodrow Wilson High School in Oregon. However, an appeal by UA was won and Rodgers was allowed to attend the university. The nation's No. 4 recruit at point guard, Rodgers is going to have to get used to the fact that he is not the go-to guy anymore on offense. It shouldn't be hard though because he has a knack for getting guys the basketball. He averaged state-best 26.6 points and 5.2 rebounds, 3.0 assists and 2.4 steals in high school. The four-year honor role student has been practicing at both point guard and shooting guard so far. Is excited to get a season to learn under UA All-American candidate Jason Gardner.
Fun Fact: Rodgers lists billiards, movies, ping-pong, reading and writing as his hobbies.
---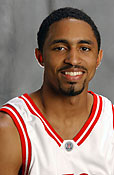 Salim Stoudamire - The cousin of former Wildcat star Damon Stoudamire, is trying to create a name for himself and in his freshman season he made a good start. The sharp-shooting left-hander from Lake Oswego High School in Portland, Ore., was named the Pac-10 Freshman Player of the Year. He was also voted by his teammates the Defensive MVP and "Mr. Hustle" last season. After making 28 starts as a true freshman he averaged 12.8 points per game. He had a career-high 29 points against Southern California. He already ranks second on the UA career three-point field goal percentage chart. He also set a new school record and ranked fourth nationally with a 90.4 free-throw percentage. At one point he made 39 consecutive free throws, a new school record.
Fun Fact: He has had five other relatives play college basketball: father Charles (Portland State, 1969-1972) uncle Willie (Portland State, 1969-1972), uncle Tony (Portland State 1975-1976), brother Antoine (Georgetown, 1988-90; Oregon 1991-93) and cousin Damon (Arizona 1991-1995).
Season
G-GS
FG-FGA
3FG
FT-FTA
RB
Ast
Blk
Stl
Pts-Avg
2001-2002
34-28
129-291
73-161
103-114
72
38
0
27
434-12.8
Totals
34-28
129-291
73-161
103-114
72
38
0
27
434-12.8
---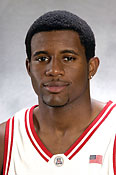 Hassan Adams - After being the first guard since Baron Davis in 1997 to be named Mr. Basketball in California, Adams has some lofty expectations. The Los Angeles Times Player of the Year though feels he will exceed all expectations. Adams, who prepped at Westchester High School in Inglewood, Calif., averaged 18.3 points, 5.4 rebounds, and 3.1 assists as a senior. Scored 13 points in the McDonalds All-American game. His explosiveness was first put on display during the slam-dunk contest at Midnight Madness when he roused the crowd with a power dunk with his left hand off a pass to himself. Adams along with roommate and teammate Andre Iguodala give Arizona its most athletically gifted team under Olson. Adams is left-handed but shoots with his right hand. However, he is more comfortable dunking with his left-hand. Has his nickname "Hot Sauce" tattooed on his left arm.
Fun Fact: Darius Miles of the Cleveland Cavaliers called Adams after his high school team won the CIF Division I state championship on the ESPN show "The Season"
---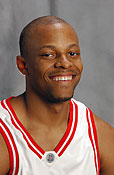 Jason Gardner - People around Tucson are thankful that Gardner decided to come back to Arizona for his senior season, especially Olson. The senior tri-captain will enter his senior year, his fourth as a starter, as the premier point guard in all of college basketball. He is on every pre-season All-American list and is just another talented point guard in the Arizona program. The former Mr. Basketball in Indiana from North Central High School in Indianapolis, Ind., is on pace to finish his career with 2,000 points, 350 three-point field-goals, 600 assists and 200 steals. As a junior he was named to several All-American teams after leading the Pac-10 in points scored (692). He was also the only conference player to be ranked in the top 10 in points, assists and steals. He finished the year ranked second in scoring average with 20.4 points per game. His career-highs are 34 points, 11 assists, 7 steals, and 45 minutes played. The speedster played all 40 minutes of the game 16 times last season and averaged a league high 38.2 minutes per game. He has missed only one-career start (103 out of 104). After declaring for the NBA draft after his sophomore year, Gardner will be a key member of the nation's No. 1 basketball team.
Fun Fact: When the Wildcats won the 1997 National Championship, UA practiced at his high school gym but Gardner was kept away from school security.
Season
G-GS
FG-FGA
3FG
FT-FTA
RB
Ast
Blk
Stl
Pts-Avg
1999-2000
34-33
118-312
70-193
121-166
125
162
2
55
427-12.6
2000-2001
36-36
114-299
76-207
89-110
109
147
2
59
393-10.9
2001-2002
34-34
197-463
106-276
192-240
100
155
0
53
692-20.4
Totals
104-103
429-1074
252-676
402-516
334
464
4
167
1512-14.5
---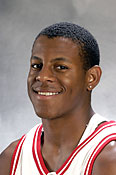 Andre Iguodala - Iguodala originally committed to Arkansas but after head coach Nolan Richardson left the school, he wanted out. Iguodala ended up a Wildcat and could not be happier. He shined in the spotlight at Midnight Madness winning the slam-dunk contest with an array of athletic dunks. He can play any position but will likely see the most time at small forward. However, he did play some point guard in high school. Iguodala, who prepped at Lanphier High School in Springfield, Ill., was named the Chicago Sun-Times Player of the Year. He averaged 23.5 points, 7.9 rebounds and 4.2 assists as a senior. His high school went 83-11 in his three-year prep career. He is also an outstanding student where he earned all-conference academic honors and was on the National Honor Role.
Fun Fact: He has his name sewed on to his shoes
---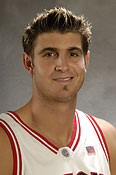 Rick Anderson - After two years as a key reserve, Anderson excelled in a starting role last season setting career-highs in nearly every statistical category. He is one of the top shooting power forwards in all of college basketball. He is one of the three tri-captains on the UA roster. As a junior, the surfer-boy who is still always looking for the perfect wave, averaged 13.1 points and 7.1 rebounds. Had a career high 19 points in the Wildcats first round NCAA tournament win against Santa Barbara last year. Anderson, who's father Gary played for Olson when he coached Long Beach City College. The younger Anderson grew up in the Long Beach area and attended Long Beach Poly High School where he averaged 22.7 points, 12 rebounds per game and 4 assists as a senior. He redshirted what would have been his junior year and it looks like it was the right decision with all the playing time he has and will get. Anderson is the oldest player on the Wildcat roster (8-10-79).
Fun Fact: Anderson is a roommate with 2002 U.S. Amateur winner and UA golfer Ricky Barnes.
Season
G-GS
FG-FGA
3FG
FT-FTA
RB
Ast
Blk
Stl
Pts-Avg
1998-1999
26-5
24-69
8-28
12-16
49
23
9
5
68-2.6
1999-2000
33-2
53-128
13-47
30-39
71
27
14
13
149-4.5
2000-2001
Redshirted
2001-2002
34-34
150-305
35-83
85-120
245
51
17
23
420-12.4
Totals
93-41
227-502
56-158
127-175
364
101
40
41
637-6.8
---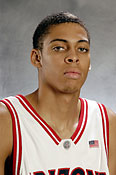 Chris Dunn - Considered the Wildcats sleeper recruit as Dunn signed his letter late in the recruiting season. After not being highly recruited by Division I schools, Dunn held out until Olson and Arizona came knocking. The lanky forward comes to UA after being named the New Mexico Player of the Year after his senior season at Hobbs High School. He was the Hobbs Eagles MVP in his senior season and led the team to four State Championships during his high school tenure. In his senior year he averaged 17.4 points, 12.3 rebounds and 4.0 blocks per game. Odds are that Dunn will redshirt this season, hoping to add weight and gain more experience in Olson's system as a practice player.
Fun Fact: Dunn won the New Mexico Junior College Basketball Camp's three-point shooting championship as an 11- and 12-year-old
---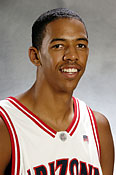 Channing Frye - Some think the 6-foot-10 center might jump ship after his sophomore season and head into the NBA but he keeps telling everyone that he has not come to that conclusion. That's good news for Olson, who has one of the top centers in the Pac-10 returning for just his second season. Frye has the potential to give the Wildcats an inside presence like former UA center Loren Woods, who now plays for the Minnesota Timberwolves. The All-Pac-10 Freshmen player averaged 9.5 points and 6.3 rebounds in his first season in the desert. Frye did step his game up when it counted the most in the NCAA Tournament where he was UA's second leading scorer (13.0 points) and rebounder (6.3 rebounds). He led the Pac-10 in field goal percentage shooting a remarkable .595 percent and even increased his average in Pac-10 play (.605 percent). Frye comes to Arizona from St. Mary's High School in Phoenix where he led the team with 22.0 points, 15.0 rebounds and 6.0 blocks.
Fun Facts: Over the summer Frye traveled to Australia with the Wildcats and also to Turkey and Italy for a five game tour with NYC Hoops.
Season
G-GS
FG-FGA
3FG
FT-FTA
RB
Ast
Blk
Stl
Pts-Avg
2001-2002
34-25
122-205
0-0
80-110
214
25
50
16
324-9.5
Totals
34-25
122-205
0-0
80-110
214
25
50
16
324-9.5