Students dance to celebrate center's 25th year
By Melanie Klein
Arizona Summer Wildcat June 12, 1996

Leyla Knight
Arizona Daily Wildcat

Members of the dance group "Ballet Folklorico Mexica."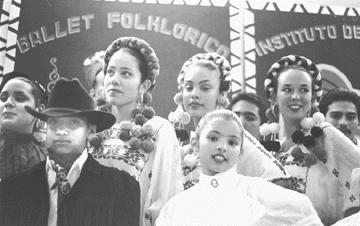 UA students will dance with the "Ballet Folklorico Mexica" at the Tucson Community Center Sunday in celebration of its 25th anniversary.

Melissa Mariscar, a family studies sophomore, will perform along with 49 other dancers honoring Angel Hernandez, founder of the folk traditional Mexican dancing group that started in Tucson 25 years ago.

"The group is an enjoyment to the community and shows the tradition and pride that the Mexican community has," said Mariscar, who has been with the group for five years.

The nonprofit organization consists of about 70 volunteers, including the dancers, runners and mothers who help backstage, said Amberosio Hernandez, artistic director.