Volume 90
Wednesday
Number 10
September 4, 1996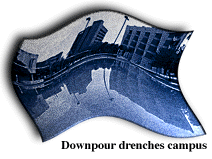 Sleep wasn't the only thing disrupted by the heavy storm that hit the UA campus with lightning, thunder and nearly 1.5 inches of rain yesterday morning.
Besides flooded streets that slowed down motorists and heavy winds that knocked down trees and garbage cans throughout the Tucson area, the University of Arizona campus had its share of problems as well.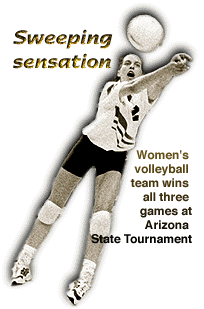 Volleyball sweeps at 1st tourney
The Arizona women's volleyball team swept all three opponents it faced last weekend in the Arizona State Invitational, the team's first tournament of the year.

Arizona (3-0 overall, 0-0 in the Pacific 10 Conference) played the Wright State Raiders and the Northern Arizona Lumberjacks on Friday, and the 21st-ranked Northern Iowa Panthers on Saturday.

"I was pleased with our performance," UA head coach Dave Rubio said.