By Alicia A. Caldwell
Arizona Daily Wildcat February 20, 1997

False fire alarms spark anger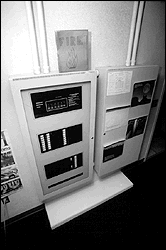 Chris Richards
Arizona Daily Wildcat

The fire alarm system in Coronado Residence Hall has been set off repeatedly this semester. In each case, it has been a false alarm. The UA recently replaced the fire alarm systems in several halls to reduce the number of false alarms.


Alarm clocks aren't the only things waking up students who live in the residence halls - false fire alarms at 2 a.m. also jolt students out of slumber.

"I get annoyed with fire alarms in the middle of the night that are unnecessary," said Robert Boyle, a biology sophomore who lives in La Paz Residence Hall. "It is uncalled for when there is no fire."

An increasing problem with false fire alarms in residence halls prompted the Department of Residence Life and the Department of Facilities Management to install updated alarm systems.

New systems have been placed in the seven largest residence halls to deter false alarms, said Colleen Morgan, occupational safety specialist for Risk Management.

"The technology is much better. They (the new alarms) are micro-processor based," Morgan said.

Jim Van Arsdel, director of the Department of Residence Life, said that before new alarms were installed, the larger halls had false fire alarms more frequently.

Causing a false fire alarm is false reporting to law enforcement, a misdemeanor, said Lt. Brian Seastone, spokesman for the University of Arizona Police Department. The crime carries a maximum penalty of up to six months in jail and/or up to $2,500 in fines, Seastone said.

Van Arsdel said a pattern of false fire alarms has emerged this year in La Paz and Coronado Residence Halls, the campus' largest.

"This is probably the most (false fire alarms) in two or three years." Van Arsdel said.

"Any time you have a false alarm, you a have a problem."

Randy Ogden, public information officer for the Tucson Fire Department, said TFD reserves the right to fine the UA for false alarms, but the UA has not yet been fined.

"We're looking into the possibility of charging the university for excessive pull station alarms," Ogden said. However, the amount of the charge has not been determined because there have not been charges to date, he said.

Students' knowledge about fire alarms and fines vary.

"I think there is a $250 fine (for not leaving the building). That is what I have heard," said Spencer Sastillo, history freshman and Coronado resident.

When an alarm is sounded, everyone is required to leave the building by law, Van Arsdel said.

However, not all residents leave the building, preferring the comfort of their bed to a trip to the cold sidewalk outside.

"We've had about 12 (fire alarms)," Sastillo said.

"We don't always leave, sometimes you just can't wake up. It's not intentional."

Sastillo said all 12 fire alarms in Coronado Residence Hall since August have been false alarms.

Van Arsdel said that when residents do not evacuate the building, resident assistants can do a room-to-room check, but it is only done at the request of TFD.

Van Arsdel said students are required to leave the building during every alarm for their own safety as well as the safety of the firefighters.

Residence Life requires any student caught in the building during a fire alarm to attend a safety class conducted by Morgan, Van Arsdel said.

At the beginning of each semester, fire drills are conducted in each of the residence halls, Morgan said.

Resident assistants are taught what to do when a fire alarm is set off, she said.

"Coronado went wacko on us when it became co-ed during the academic year of 1991 to 1992. They had two alarms a day for the entire semester," Morgan said.