By Edina A.T. Strum
Arizona Daily Wildcat February 25, 1997

Expectations high for next president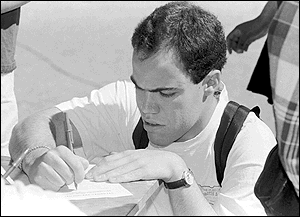 Adam F. Jarrold
Arizona Daily Wildcat

Communication senior Neil Loewentritt fills out a survey distributed by the presidential search committee yesterday on the University of Arizona Mall. The committee is seeking input about what qualifications students want the next UA president to have.


One hundred fifty-six students shared their expectations of the new UA president through a survey on the UA Mall yesterday.

Two of the student members of the presidential search committee - Rhonda Wilson, Associated Students president and an accounting and finance senior; and Jonathan Schmitt, student regent and agriculture senior, collected surveys from noon to 1 p.m.

Wendelyn Nichols-Julien, political science and regional development senior, is also a student member of the committee but could not collect surveys yesterday.

The survey consisted of 10 questions asking students what personal and professional qualities the next president should possess, how university priorities should be ranked, and how much time should be devoted to groups including students, faculty and alumni.

Many students said the next president needs to be more responsive to students' needs.

"I want someone who reaches out to the students and the state legislature," said Neil Loewentritt, communication senior. "I also think a national reputation for undergraduate education is important."

However, Loewentritt added that furthering the university's research reputation should remain a high priority.

Lesley Willox, environmental sciences junior, said she wants to see a president who is more accessible.

Another concern raised by students was how the university spends its money.

"Too much money is spent on petty things. We lose the focus of the fact that we're here for education," said Ron McCullough, biochemistry and chemistry junior.

Shannon Sheehan, business graduate student, said, "This university seems to be mismanaged. There is plenty of money, it just isn't used right."

Wilson said the survey was developed to ensure that the students on the search committee are advocating what the students want.

The presidential search committee is comprised of 22 members drawn from the University of Arizona, the Arizona Board of Regents and the community-at-large.

The committee's first meeting was held Feb. 14 and outlined the selection procedure and set a goal of late June to have a new president chosen.

Wilson said a copy of the survey will be published in the Arizona Daily Wildcat and sent to club presidents so more students can complete the survey, which will be made public after the results are compiled.

Student can also send their suggestions to uapressearch@listserv.arizona.edu. The listserv was created to deliver students' opinions directly to Wilson, Schmitt and Nichols-Julien. The listserv will remain active throughout the search.