By Amanda Riddle
Arizona Daily Wildcat March 3, 1997

Clingan proves experience isno guarantee of ASUA victory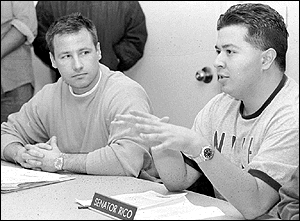 Arizona Daily Wildcat

Associated Students of the University of Arizona Senator J.J. Rico (right), who survived the primary election last week, is one of five ASUA incumbents running for an executive office.


Eric Clingan's success in the primary elections showed that students voting for ASUA administrative vice president may be voting on issues, not just previous experience.

Clingan, a political science junior, is the only student running for an Associated Students executive office who advanced to the general election but has no previous experience in ASUA.

Clingan received the second highest number of votes - 414 - in the primary election held Tuesday and Wednesday, beating out three other candidates with previous involvement in ASUA.

But in the race for executive vice president, the two candidates who are already elected officials were the ones to make it through the primary.

Sen. Casey Cuny received 878 votes and Sen. J.J. Rico received 574 - more than Club Advocate Sean Murray, a finance junior, who had 569 votes, and political science and economics senior Jason Arcaro, who had 172 votes but no previous ASUA experience.

Last year, Jim Bretney, who had no ASUA experience, campaigned for president but lost in the primary election to current President Rhonda Wilson and Julie Rice, who was the UA director of the Arizona Students' Association at the time.

Clingan is the first executive candidate in four years who had no experience in ASUA but advanced to the general elections.

ASUA elected officials who campaign for another position have experience with the infrastructure of student government, but students say their issues and past record also contribute to who they will vote for in the general election tomorrow and Wednesday.

Two students leaving the polling sites last week said they would vote for elected officials again if they had been successful in office.

"If I thought that they had done a good job, I would vote for them again," said Sam Pogers, a chemistry and engineering junior.

He also said name recognition was a factor because he was not going to vote for a candidate whose name he did not recognize.

Jason Gilray, a pre-pharmacy junior, said it depended on how well he thought the candidates had done this year.

This catch-22 for candidates who already hold elected positions is intensified in the race for ASUA president because Wilson is trying to become the first re-elected student body president.

Wilson, who is running against Senate Chairman Gilbert Davidson, has had a year of experience in the office, but is also the easier target for criticism.

Dean of Students Melissa Vito said incumbents may be more known to the campus community because of their visibility, but this can be both positive and negative, depending on the type of coverage they have received.

Ninette Zavala, a business freshman, said she would be more likely to vote for the candidates who hold elected positions because they have more experience, but she was also looking at the issues.

Lisa Weaver, a biochemistry sophomore, said her vote was influenced by ASUA experience and which candidates were running on improving academics and the Student Union.

"I believe the ASUA elected officials can make more improvements and I know more about them," Weaver said.