By Sam Spiller
Arizona Daily Wildcat March 3, 1997

Wildcats extend winning streak to 38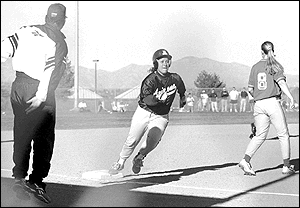 Adam F. Jarrold
Arizona Daily Wildcat

Arizona junior third baseman Lety Pineda rounds third base at the Hillenbrand Invitational yesterday at Lincoln Park. The Wildcats finished the weekend undefeated to run their win streak to 35.


The Arizona softball team continued its winning streak this weekend at the Hillenbrand Invitational with three wins on Sunday against Kansas, 11-1, Colorado State, 9-0 and Florida, 10-0.

The weekend's six wins put the Wildcats at 20-0 on the season and extends their winning streak to 38 games.

"Saturday we found a way to win but we were a step behind on everything," UA head coach Mike Candrea said. "Today (Sunday) I think we found our secret, we need to play a triple-header and then the next day we know our bats are going to wake up."

The Wildcats were forced to play triple-headers because of Friday's rainouts.

Arizona put lackluster wins over Kent State, 4-0, DePaul, 8-0 and Louisiana State, 8-4 behind them going into Sunday's games.

"I think Saturday we started out a little slow, but I thought it was a very productive weekend," UA first baseman Leah O'Brien said.

"We start (Pacific 10 Conference) play next week and it's going to get a little bit tougher, but we're getting there."

The three-hit shutout over Florida was one of the best performances this season for UA pitcher Nancy Evans.

For the Gators, who are in their first year of play, it was a learning experience.

"Right now we just have a few more horses than they do, and the game would have been a little different if their number one pitcher had been able to throw," Candrea said.

"A lot of their kids haven't seen a good rise-ball, so there are some advantages."

O'Brien hit her first home run of the tournament in the top of the sixth inning, giving the Wildcats an insurmountable 9-0 lead.

"I think (in) every at-bat you want to go up there and do your job, whether it's to bunt somebody over or to get a base-hit," O'Brien said.

"A lot of times those hits will turn into home runs. For me, I really needed it. I really wanted to get a good feeling and hit the ball hard. I haven't done it in a while."