Volume 90
Thursday
Number 11
September 5, 1996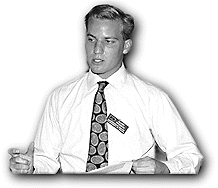 ASUA, GPSC operations stalled by indecision
The progress of student government appears to be handcuffed while the UA's two student governing bodies work out the final details of their separation.

The split between the Associated Students and the Graduate and Professional Student Council was supposed to be finalized Friday, said Undergraduate Senate President Gilbert Davidson.

Davidson said the delay is causing confusion and frustration, because ASUA cannot make any important decisions, such as passing a budget, until the separation with GPSC is finalized.

"Without a budget, nobody is getting paid around here. We are all volunteering our time, " Davidson said. "I would like to be moving a lot faster on the split. This delay shows a fault in the system."