By Kevin Clerici
Arizona Daily Wildcat March 10, 1997

Salave'a given extra eligibility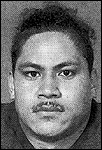 Joe Salave'a
Arizona Daily Wildcat


The UA football team received some good news Saturday when senior captain and All-Pacific 10 Conference defensive lineman Joe Salave'a announced that he will return for one more season.

The NCAA rules committee and the UA academic support program, however, should get part of the credit.

Under a rule that was ratified less than two months ago, the NCAA will now reward partial academic qualifiers for earning a college degree within four years. Typically, a scholarship athlete has five years to play four seasons. That includes a redshirt se ason plus four subsequent years of eligibility. The new rule grants current players such as Salave'a, who paid his own way in 1993 as a partial-qualifier and was ineligible to play, the right to a fourth year of playing status if they earn a degree in fou r years.

Salave'a, 21, had planned to graduate in May with a bachelor's degree in sociology and a minor in ethnic studies anyway. He learned of the option about a month ago after playing in the Hula Bowl, a NCAA sanctioned all-star game.

"This is the best single piece of news we've had in 1997," UA head coach Dick Tomey said. "It's a tribute to Joe for his hard work and academic focus, and a heck of a note for our team. He means everything to this team that a guy like Peyton Manning means to Tennessee."

Regarded as a possible fourth- to seventh-round draft choice by pro scouts, Salave'a said the financial benefits of the NFL were hard to pass up, but growing up with a father who is a teacher, getting a degree is his first priority.

"In my family, it's a must. Without a degree, it's pointless to go on," said Salave'a, who is from Pago Pago, Samoa. "I had to sit down and evaluate the pros and cons. Most importantly, I want to take care of my mom and dad."

With his current 16-unit schedule, the 6-foot-4, 276 pound Salave'a said that he "couldn't make the 100 percent dedication to the NFL combines that are a must."

"You have to be thinking and working on football at all times if you take that course in life, and I could not make that commitment with my school schedule," he said.

Kathleen F. Gabriel, Salave'a's adviser and assistant academic coordinator for the Athletic Department, said Salave'a has not had a summer vacation since his freshman year.

"He took all three summer sessions, the whole bit," she said. "We knew he was racing against time."

Salave'a also took winter session classes in his junior year.

"He's done very well," Gabriel said. "Athletes are stereotyped at times, but he's not taking fluff classes. He's worked really hard. I don't think there are too many people in the country that qualify because it does take such an effort."

"We couldn't be more pleased," Tomey said. "However positive we felt about the coming season before, we've just taken a step up. For him to delay a pro career to come back is outstanding for our program. It's an outstanding example of a young person keepi ng his wits about him and keeping school a priority."

Salave'a's decision to not get an agent paid off. He would have lost his amateur status if he had.

"I'm thrilled with my decision," he said. "All the sleepless nights trying to figure things out are finally behind me. I can get on with the rest of this semester."

Last season, Salave'a finished with 47 tackles, including six sacks and six other tackles for a loss, despite playing with injuries.

"When he told us, he said that he guessed that it made him a 'recruit' for this year. We've never had this good of a recruiting surprise," Tomey said. "There is not a better defensive lineman in the league."