By Kristen Davis
Arizona Daily Wildcat March 10, 1997

UA men not discouraged by losses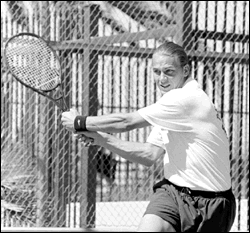 Tanith L. Balaban
Arizona Daily Wildcat

UA tennis player Henrik Wagner broke UCLA's Eric Taino's 16-game winning streak Saturday at the Robson Tennis Center, but the Wildcats still fell to the Bruins.


Henrik Wagner was the force behind what UA men's tennis player Mike McKay called the team's "best weekend by far" despite two losses.

Wagner, a senior, was determined to shake his losing streak. After dropping his third-consecutive match on Friday in the Wildcats' 4-3 loss to No. 13 Southern Cal, Wagner was the last player to leave Robson Tennis Center.

He did not lag behind his teammates to practice serves or lobs.

Instead, he stayed late to wash his own court so balls would not move as fast the next day against top-ranked UCLA.

"I like my game when it is a little slower so I can get my groove going," said Wagner, who apologized to Arizona fans after a poor match earlier in the week. "It makes such a big difference because the court is much slower and it fits my game much better."

The result: he broke tenth-ranked Bruin Eric Taino's 16-match winning streak in straight sets on court one, 7-6, 7-5.

"I guess I have to wash my own court now before every match," Wagner said, jokingly.

Despite the strong effort by Wagner, the Bruins beat Arizona, 5-2.

Although the No. 34 Wildcats (5-5 overall, 0-4 in the Pacific 10 Conference Southern Division) dropped both matches, head coach Bill Wright and the players were hardly disappointed.

Earlier in the season UCLA and Southern Cal swept the Wildcats, 7-0 in Los Angeles.

Wright said simply getting some numbers up on the scoreboard was a victory for the team.

"The two days were very tough, but everyone got better," Wright said. "It was very impressive because we're still one player short and we're still with those guys."

Freshman Jean-Noel Lacoste did not play singles either day because of a pulled groin.

Junior Mike Mackay finished the weekend with a pair of tight three set singles victories.

"The wins gave me an incredible amount of confidence," Mackay said. "I put more balls in the court and was more aggressive."

Senior Roland Kupka, Mackay and junior Jerome Oliveri recorded UA's singles wins against Southern Cal.