By Alicia A. Caldwell
Arizona Daily Wildcat March 26, 1997

Fans run into roadblocks on the way to Final Four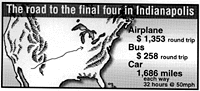 The road to the Final Four is difficult to travel for Wildcat fans.

Since Sunday evening, when the Arizona Wildcats' position in the Final Four was guaranteed, fans have been making plans to travel to Indianapolis this weekend to watch the matchup between Arizona and the North Carolina Tar Heels.

Fans who planned ahead could buy Bon Voyage Travel's Final Four packages, which included round-trip airfare from Tucson to Indianapolis, four nights in one of two hotels and ground transportation.

According to a Bon Voyage travel representative, these packages ranged from $1,150 to $1,249, plus an additional $80 to $100 for a game ticket. As of 3:30 p.m. yesterday, however, all of the packages had been sold.

Andrea Cornet, a sales representative for America West Airlines, said flights to Indianapolis were completely sold out yesterday afternoon. American Airlines had two flights available starting at $1,353 round-trip. Southwest Airlines does not fly from Tuc son to Indianapolis.

For the adventurous fan looking for a less expensive trip to Indiana, Greyhound Bus Lines offers a round-trip ticket to Indianapolis from Tucson for $258. These tickets are on a first-come, first-served basis. Potential passengers need to be at the bus st ation an hour before the scheduled departure time, a Greyhound spokesman said.

Greyhound travelers need to be prepared for two transfers on the way to Indianapolis.

Finally, fans can vie for the road-trip option. Travelers attempting this endeavour should be prepared for a 32-hour, 1,686 mile journey.

"The average would be about 32 hours if you go straight through and drive at about 50 mph. You could probably shave a couple of hours off that if you drive faster and don't make a lot of stops," said Matthew Brown of the Arizona Automobile Association.

But even before people try to get a ticket to Indianapolis, they will need a ticket to the game. And that may be where the real difficulty begins.

The University of Arizona was alloted a total of 3,500 Final Four tickets, as were the three other teams. Of those tickets, 350 were reserved for students and issued through a lottery held earlier this month, said Butch Henry, associate athletic director for media and internal services.

About 2,150 tickets were made available to Wildcat Club members who have earned "priority points" by holding season tickets and making donations to the Athletic Department, Henry said. The remaining tickets were given to administrators, players, band memb ers, and others affiliated with the team, he said.

Students who did not get one of the 350 student tickets might still be able to get admission through a ticket dealer or scalper. Many newspapers also contain classified advertisements from people selling Final Four tickets at a high mark-up.