By Arlie Rahn
Arizona Daily Wildcat April 1, 1997

National champs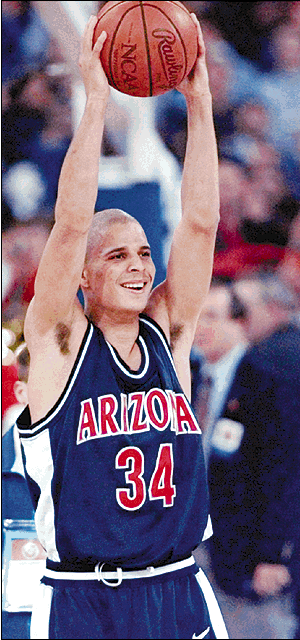 The Associated Press
Arizona Daily Wildcat
Arizona guard and tournament MVP Miles Simon hoists the ball over his head seconds after the UA beat Kentucky to win its first national basketball championship.
INDIANAPOLIS - The Arizona basketball team put a storybook ending on its magical NCAA Tournament run by defeating defending national champion Kentucky, 84-79, to become the national champion in a thrilling overtime finish.
"I don't think this will sink in for a while," UA head coach Lute Olson said.
"It's kind of like a dream. No one thought we could do it, but this is one tough group of Wildcats."
Not only is this Arizona's first championship, but it is also the first time a team has defeated three number one seeds on the way.
"It's unbelievable, this is a fantastic accomplishment," said UA junior guard Miles Simon, whose game-high 30 points helped him to be named the tournament MVP. "We're here now, we're not a year away. I think we went into the Final Four with an advantage, we didn't have a care in the world."
Arizona went right at the famed Kentucky defensive press, using good ball-handling and spacing to not only break it, but create transition opportunities in the process.
"We've been working on the press since day one in practice, so it was nothing new," said UA freshman guard Mike Bibby, who finished with 19 points and nine rebounds. "We stayed confident with the ball and I tried to beat them with the dribble when I saw an opening."
After a back-and-forth first half that saw Arizona take a slim 33-32 lead into the locker room, the Wildcats came out in the second half determined to put some distance between themselves and Kentucky.
After a Bibby three-pointer and a Simon leaner, Arizona found themselves up 42-36 with 15 minutes remaining.
However, a resilient Kentucky team would not give in, looking to sophomore sensation Ron Mercer for inspiration.
Sparked by a Mercer tip-in and three-point play, Kentucky made an 11-4 run and took the lead, 47-46 at the 10:19 mark.
"They never let us run away, and with their shooting we knew that no lead was safe enough," UA sophomore center A.J. Bramlett said. "We just kept our confidence level up and looked to Miles and Mike Bibby to lead us."
Over the next five minutes, Arizona countered the Kentucky pressure with clutch outside shooting. With three-pointers from Simon, Jason Terry and Bibby, the Wildcats regained the lead at 57-54.
It was then that an unlikely hero surfaced for the Wildcats, arriving in the form of free-throw shooting.
For the next four minutes, Arizona cashed in from the charity line making 10 of 11 shooting from the line. And with the help of a flagrant foul from Kentucky's Jared Prickett on Simon, Arizona put itself up 70-68 with the ball and 87 seconds remaining.
But following two Bibby free throws, Kentucky made their final spurt.
The first blow came from a Mercer three-pointer that cut the lead to 72-71. And after a no-look pass from Bibby to Bennett Davison to push the lead back up to three, UK guard Anthony Epps tied the game at 74 with 10 seconds remaining.
"They hit two incredible shots in that final minute," Simon said. "On Mercer's, if I was any closer I would have fouled him. And Epps also hit one under pressure."
Yet all Arizona could manage in the final seconds was a Simon errant pass in the air, forcing an overtime period.
"When we went into (overtime) after they tied it up, I looked into everybody's eyes and knew we would win," Terry said. "I saw a determination that would not stop until we were champions."
Using steady defense and a controlled offensive attack, Arizona outscored Kentucky, 8-2 in the first four minutes. And when Miles Simon hit two free throws to move the score to 82-76 with 41.7 seconds remaining, Arizona started to feel that they were making history.
"When Miles hit those, it took all my energy not to run out there and start celebrating," UA freshman Eugene Edgerson said. "Our guys played with so much heart, and Miles again showed himself as a big-game player."
While Simon provided the offense, junior forward Michael Dickerson quitely had a great defensive game of his own.
While he managed only five points, Dickerson blanketed All-American forward Mercer, limiting him to 13 points on only nine shots.
"My strategy was just to deny him the ball," Dickerson said. "When I saw my shot wasn't falling, I told the guys that if I didn't score, he wasn't going to, either."
Although the game had a fast tempo which Kentucky likes to play with, the UA players felt that their quickness would last longer.
"We won this game because we believed in ourselves when no one else would," Dickerson said. "We came out and played our game against a very good team. We know that there is not one team in this country that can run with us, not even Kentucky."