By Amanda Riddle
Arizona Daily Wildcat April 8, 1997

Teacher evaluations to go online in fall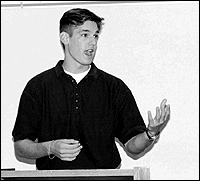 Karen C. Tully
Arizona Daily Wildcat

Student Faculty Sen. Patrick Williams proposes a site on the World Wide Web that would make teacher evaluations available to all students.


The UA service that collects teacher evaluations received authorization from the Faculty Senate yesterday to publish teacher-course evaluations online beginning this fall.

In a voice vote, only two of about 50 senators voted against the measure.

The vote was a point of clarification from an original proposal for Instructional Assessment and Evaluation Services to publish teacher evaluations in printed format.The Senate passed the original proposal April 1, 1996.

Last year's Associated Students president, Ben Driggs, headed the project to publish the evaluations.

Jennifer Franklin, coordinator for Instructional Assessment and Evaluation Services said, "Students have come to me every year with the idea - four years in a row - but no one else was able to sustain the research or follow through."

Student Sen. Patrick Williams, ASUA's academic affairs director, presented the proposal to publish the evaluations online at the Senate's last meeting, but the vote was postponed because of discussions over security.

"The publication of teacher evaluations was held up to this point because of the option of putting it online. The incredible difference in cost makes it worth it," Williams said.

He said publishing the evaluations online would cost $10,000. Publishing them twice a year in a booklet, without graduate teaching assistants, would cost $20,000, and publishing twice a year with the GTA's would cost $29,000, Williams said.

He said the $10,000 includes data entry, hardware and stipends for two programmers.

The Associated Students set aside $13,000 last year for the publication of the evaluations, Williams said.

"It is more cost effective to publish online," he said. "This is really something that makes teacher evaluations more meaningful. It allows faculty members to be recognized for what they do well," he said.

Access to the information will be restricted to current University of Arizona faculty members and students.

Students and faculty will be able to access to the site through the UAInfo home page. They must enter their name, personal identification number and student identification number to access the evaluations site, Williams said.

Sen. Jacqueline Sharkey, journalism professor, spoke out against online publication at both meetings.

"I think there is a difference. Putting the evaluations on paper is different than putting them online." Sharkey said. "There are privacy considerations that have not been adequately secured."

Last year, Sharkey voted in favor of publishing the evaluations in booklet form.

She said she is concerned that publishing evaluations online would pose a security risk because someone could easily distribute the information via the Internet. She said she is concerned that widely distributing the evaluations will infringe on instructo rs' privacy because the evaluations are personnel records.

"Their claim that the data is secured does not give me great comfort," Sharkey said. "The issue has not been given enough study to go on today."

Sharkey was the only senator who spoke out against the proposal in the meeting.

Sen. Larry Schooley, professor of electrical and computer engineering, said he did not share Sharkey's concerns about the security issue.

"It is not really an issue of security as much as convenience," Schooley said. "Anyone can have access to a printed publication."

Sen. Peter Medine, a professor of English, also voted against the proposal.

Medine said he voted against it because the evaluations will not serve the purposes of the English department, which uses evaluations for promotion and tenure.

He also voted against the original proposal passed last year.