By Amanda Riddle
Arizona Daily Wildcat April 10, 1997

Sens. threaten ASUA services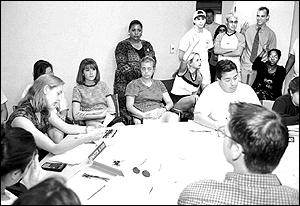 Robert Henry Becker
Arizona Daily Wildcat

Undergraduate Sen. Lauren Sliger (left) discusses cutting the Bisexual, Gay and Lesbian Association at last night's Senate meeting. Sliger and Sen. Chadd Garcia voted to eliminate BGALA as an Associated Students service, saying that classifying BGALA as a club would create a more equitable funding process for the organization.


Amidst heated debate, the Undergraduate Senate voted last night to keep the Bisexual, Gay and Lesbian Association as an ASUA program next year.

The Senate unanimously passed Associated Students bylaws for the Senate and for clubs and organizations without debate, but objections surfaced when senators proposed to cut some programs and services.

Sens. Lauren Sliger and Chadd Garcia voted to eliminate BGALA as an ASUA service, which would require BGALA to become a club and apply for funding through ASUA's Appropriations Board.

Sens. J.J. Rico, Ryan Anderson, Kim Montanaro, Maile Weigele and Casey Cuny voted against cutting BGALA. Sen. David Kramer abstained. Cuny is ASUA's executive vice president-elect.

After passing a new constitution in February, ASUA chose to restructure programs and services.

Sliger said she wanted BGALA cut from ASUA for financial reasons. ASUA's 15 programs and services are allocated a budget at the beginning of the academic year, while clubs and organizations apply for funding on a case-by-case basis through the Appropriations Board.

Sliger said BGALA's interest is so limited that she could not justify giving it a line-item budget at the beginning of the year while other special interest clubs have to go through the club-funding process.

BGALA has a budget of $5,261.50. It has already spent $3,576.01. About $700 was spent on National Coming Out Day activities in October and $2,250 was paid to a speaker for Gay Awareness Week last month.

Funding is more carefully monitored through the Appropriations Board, Sliger said.

Garcia said removing BGALA from ASUA's programs and services is a fairness issue.

"There are a vast amount of other minority organizations and clubs, and we're not providing the same appropriations for all of them," he said.

"There's not enough money to make every minority group a program or service," Garcia said.

Fifteen people were present at the meeting, including members of BGALA, the Minority Action Council, the Student Health Advisory Committee and the Women's Resource Center, all of which are ASUA programs and services.

Four members of BGALA argued with Sliger and Garcia about cutting the association.

"This is a serious mistake," said Micheal Kruz, a BGALA member.

"BGALA faces the constant threat of discrimination if it is relegated to clubs and organizations. If it is not institutionalized, who else will come out and pick it up, to face open discrimination and continue forward with it?"

BGALA co-director Jason Cianciotto also disagreed with Sliger and Garcia, saying BGALA serves the entire university community by informing the campus of its issues.

The Student Health Advisory Committee's role as a program and service was also in question at the meeting.

The Senate voted unanimously to keep it under ASUA this year, but added a stipulation.

The stipulation states that SHAC will be cut as an ASUA service after the 1997-1998 academic year unless the Senate that takes office in May votes to keep it.

Sliger said SHAC would be better served if it were under the jurisdiction of the Campus Health Service.

Senate Chairman Gilbert Davidson, ASUA's president-elect, said he did not want to take away from what SHAC has done, but wanted it placed under Campus Health because it advises the health center.

SHAC director Laura DeMuro said the only way for SHAC to advise Campus Health is to have access to students through an office located in ASUA, not in Campus Health.

In addition to advising Campus Health, SHAC sponsors a health fair and condom week.

DeMuro said she felt confident next year's Senate will vote to retain SHAC in programs and services.