By Ana A. Lima
Arizona Daily Wildcat April 11, 1997

Protests keep ex-Brazilian pres. off campus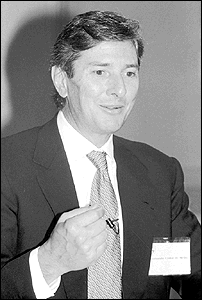 Ryan A. Mihalyi
Arizona Daily Wildcat

Fernando Collor de Mello, the former president of Brazil, spoke yesterday at the Westin La Paloma Resort about economic treaties and current Brazilian problems. Collor resigned in 1992 after protests calling for his impeachment but plans to run for the presidency again in 2002.


A Tucson visit by the former president of Brazil yesterday has stirred up controversy and protest among the Brazilian community at the UA.

President Fernando Collor de Mello was originally scheduled to speak at the University of Arizona, but that visit was canceled because of protests.

"We decided it wasn't necessary for him to come to the university," said Boris Kozolchyk, president of the National Law Center for Inter-American Free Trade. "There was a lot of protest from the Brazilian community."

Twenty-nine Brazilian students are enrolled at the UA.

Kozolchyk said some students spoke to UA President Manuel Pacheco about their opposition to his visit. Pacheco could not be reached for comment yesterday.

Collor took office in 1990. In 1992, he was accused of several violations of office, including extortion of public funds.

He resigned later that year, amid mass protests calling for his impeachment.

The Brazilian Supreme Court recently cleared Collor of charges, but new allegations continue to surface.His political license in Brazil was revoked until the year 2000.

A few weeks ago, a group of Brazilian students sent an unsigned letter to all UA law professors, expressing their objection to Collar's visit, said Eneida Lima, one of the letter's authors.

"We believe that those responsible for inviting Mr. Collor to Tucson have used exceedingly poor judgment and we are shocked that we should be asked to give a warm welcome to someone who is responsible for stealing $2 billion from the Brazilian people," th e letter stated.

Rony Curvello, Collor de Mello's assistant, said he learned about the protest through law center members Wednesday when he arrived in Tucson.

"I see this (the letter) as a bunch of lines thrown on the paper, without any responsibility," he said.

Raul Saba, associate director of the Latin American Area Center, said he received a lot of complaints about the former president's visit.

Saba said the Latin American Area Center planned to organize a forum today for students to interact with Collor.

However, Saba said he did not receive confirmation from the former president's office that he would be coming to the university.

"We never had any firm commitment," he said.

Curvello said Collor canceled his visit to the university because time was running out.

He said the center invited Collor to speak today, but he replied saying Collor could visit the Latin American Center yesterday afternoon.

Curvello said the center did not pursue the invitation any further.

"I consider this invitation absurd because Mr. Collor does not have any academic authority, he is a bad example of conduct in a public office and is involved in a series of irregularities," said Roberto Capocchi, a graduate student at the UA.

Nelzimar Neves, a music graduate student, said she had made pamphlets to be distributed in protest.

Neves said, however, that the date and location of Collor's speech was kept secret and said she was informed that his visit had been canceled.

Saba said the Brazilians "blew it out of proportion."

He said he thinks Collor should have been able to speak at the UA.

"I believe in free speech, " he said.