By Darin Stone
Arizona Daily Wildcat April 15, 1997

Research shows sex on Web is hot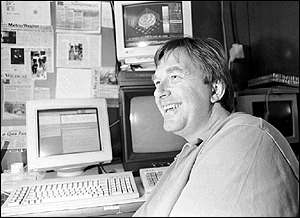 Arizona Daily Wildcat

UA research specialist Patrick Woida


Pornographic sites on the Internet are the most visited online pages, and the demand for those sites is on the rise, according to research by a Purdue University psychologist and a UA scientist.

Kathryn Black, professor of psychology at Purdue University and adjunct professor at the University of Arizona, and Patrick Woida, a researcher at the UA's Steward Observatory, conducted a year-long survey of sexually explicit material on the Internet tha t found the top pornographic sites are hit over eight times more often each day than the most popular non-pornographic sites.

Woida said that over 6 million people per week log on to sexually explicit sites.

"On the World Wide Web, people can get anything they want, and people are saying 'give me sex,'" Woida said.

Black's and Woida's research indicated that in March, the top non-pornographic site was being accessed about 36,000 times per day, while the top adult sites were hit about 300,000 times daily.

The latest computer technology is facilitating the development of sexually explicit material on the Internet, Woida said. He said video conferencing, where users can see the people with whom they are communicating live on their computer screens, is a risi ng pornographic trend.

"People are using computer conferencing software to call women on the other end of the line telling them what to perform," Woida said. "Performers on the other end will usually charge about $3 per minute," he said.

Black said the discoveries of the research are both positive and negative.

"Pornographic material can be used for both good and bad," Black said. "Erotica is simply sexual material that is not demeaning to anyone. This type of sexual material can be used to enhance relationships."

However, she added, "The sad aspect (of the research) is that many people view pornographic material because they are lonely."

Black also said she has some concerns about how the public will react to the findings.

"Some people will use this as a means to ban pornography," Black said. "The fact is that pornography has always been available."

The researchers objective was to point out what material is available, what is free and to survey the pornographic sites, Woida said.

Although their intent was not to determine whether or not pornography was positive or negative, Black and Woida said they did voice some concerns about the effects of viewing sexually pornographic material.

"A computer is easily 'turned on' with a switch. Women aren't. We fear the possibility that heavy users may be happily settling for depersonalized relationships," Black and Woida said in their research paper.

"Who has time to do this?" Woida said. "They are people with poor social skills. Viewing this material takes away from building strong relationships."

He said many of the proctors of pornographic materials voiced concerns about how to keep children from viewing the sexually explicit sites.

"The people running the sites are business people," Woida said.

"There is obviously a huge demand for these sites, but the people running them are trying to help keep kids off these pages. They are being responsible."

There is software available over the Internet that allows parents to block pornographic sites, Woida said.

He said child pornography has more or less been cleared from Web pages because of intense policing by Internet surfers.

"There has been a trend to find (and remove) child pornography from the Internet," Woida said. "There are probably less than 12 sites out there."

Although Black and Woida do not have any indication of the age and gender spectrum of who views pornographic sites, an article in the December issue of Internet World indicated that the average Web surfer is 33 years old.

The magazine also stated that two-thirds of the users are male, 27.8 percent are in "educational occupations, with computer-related jobs," 18.9 percent hold professional occupations and 10.7 percent are in management positions.

Black's and Woida's research was reported at The Society for the Scientific Study of Sexuality Western Region Annual Conference earlier this month in Newport Beach, Calif.