By Amanda Riddle
Arizona Daily Wildcat April 21, 1997

Spring Fling profits not soaked by rain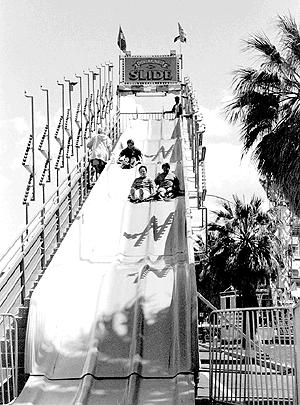 Arizona Daily Wildcat

This year's Spring Fling lost an estimated $16,000 in profits for ASUA, while the clubs and organizations that participated gained approximately $11,000, due to the new Dollar Day marketing idea incorporated on Sunday, closing day. Bad weather has caused overall profits to decline in the last couple of years.


Clubs and organizations that participated in Spring Fling two weeks ago increased their profits by almost $11,000 over last year, according to the event's director.

The food, game and entertainment booths run by University of Arizona clubs and organizations generated $83,960, Keith Henson said. Last year, they generated $73,144 in revenue.

While the carnival was profitable for the clubs and organizations, the Associated Students, which coordinates it as a fund-raiser for university organizations, is still waiting to find out if it made a profit.

Henson said ASUA will not have an official tally until next month because Fry's Food and Drug has not paid Spring Fling for the admission and wristbands pre-sold exclusively at Fry's locations.

Gail Tanner, ASUA accountant, said the April 3-6 carnival's total revenue, after paying the clubs and organizations, was $112,040.

The money from Fry's and $21,000 in sponsorship money will increase the amount, Henson said.

Tanner said the carnival operations cost $142,000, however it still has to pay Facilities Management and the University of Arizona Police Department.

After all of the bills are paid, Tanner estimated the carnival will lose about $16,000.

Because of rainy weather, the carnival closed down 31/2 hours early on its opening day, decreasing Spring Fling's chances at making a profit, Henson said.

During the four days, Henson said about 28,800 people attended the carnival, the same number as last year, when rainy weather drove down attendance.

However, Henson said clubs made more money this year because of a new marketing idea incorporated for the last day of the carnival.

Sunday's Dollar Day allowed carnival-goers to pay $1 for admission and $1 for rides.

Henson attributed the 11,800 people at the carnival Sunday to Dollar Day. About 40 percent of the carnival's total patrons walked through the gates on Sunday.

Sunday's lower prices gave organizations that ran booths the opportunity to make the most profit because patrons had more money to spend on food and games, Henson said.

"The clubs benefited the most from Sunday," Henson said.

Julie Cronlund, a member of Camp Wildcat and an elementary education senior, said her organization made $2,108.41 operating a basketball game booth. She said last year the club made a small profit selling juice.

Spring Fling is worth the effort for ASUA and the clubs and organizations, she said.

"Spring Fling is a beneficial public relation for us," Cronlund said. "People see our name and that is a benefit whether or not we bring in money."

Undergraduate Sen. Lauren Sliger, member of the Senate Budget Oversight Committee, said Spring Fling will be in jeopardy when the university receives approval to build the Integrated Instructional Facility below the UA Mall.

In the future, Sliger said the carnival should budget for a bad weather day so it does not continue the seven-year trend of spending more than it makes.