By Andrew Carrol
Arizona Daily Wildcat April 25, 1997

Men off to San Diego to vie for WCLL title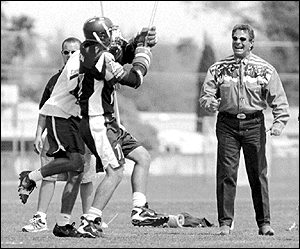 Arizona Daily Wildcat

Laxcats' coach Felton hopes for a win at San Diego


Head coach Mikey-Miles Felton and the rest of the Arizona men's club lacrosse team have a chance to advance to the WCLL championship game on Sunday if they can beat Sonoma State this afternoon in San Diego, Calif.

Should they beat Sonoma and Whittier defeats UC-Santa Barbara, the Laxcats will automatically advance to the national club finals in St. Louis next weekend. Whittier is an NCAA Division III program and is therefore ineligible to go to the club finals. And since the WCLL is the largest of the club leagues, Arizona would receive the top seed.

If Santa Barbara wins, the Laxcats would have to play them in the WCLL championship for the right to claim the number one seed.