By Ana A. Lima
Arizona Daily Wildcat April 30, 1997

Foreign TAs' language barrier hard to break, students say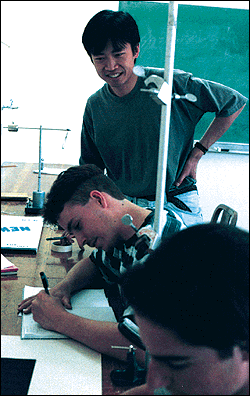 Tanith L. Balaban
Arizona Daily Wildcat

Graduate teaching assistant Wei He (standing) helps Jarred Mahan (center), a mechanical engineering freshman, and Sami Yacoub, a computer engineering freshman, with their Physics 141L lab assignment yesterday.


Even though the UA recently raised its language proficiency requirements for hiring international teaching assistants, many students continue to complain that the language barrier is a problem in the classroom.

Whitney Grese, a junior majoring in German and architecture, is taking a physics lab taught by a TA with a limited vocabulary.

"I notice a lot of people looking around saying, 'What did he say?'" she said.

She said her TA speaks so fast that students don't understand enough to ask questions. She said some of her past science TAs also struggled to explain important concepts.

Grese said she thinks the best international TAs have been in the United States long enough to develop a good vocabulary in conversational English.

"It's not that they didn't know what they were talking about, they just didn't know how to do it in the English language," Grese said.

This semester, 216 international TAs from 54 countries are teaching classes at the University of Arizona.

All international TAs must score 550 points on the Test of English as a Foreign Language and 50 points on a "speak test," said Dorian Voorhees, Graduate College program coordinator. The TAs must also attend a Graduate College training seminar and a departmental orientation, she said.

The "speak test" ensures that international TAs can communicate in English, said Jonathan Seely, coordinator of international teaching assistant testing at the Center for English as a Second Language.

The Graduate College adopted a new version of the "speak test" in October, Seely said. The old "speak test," which was adopted in 1986, emphasized pronunciation rather than conversational proficiency, he said.

"The test is a little bit different to test their ability to communicate ideas," Seely said.

TA candidates look at a graph and explain it to an audience of observers, and CESL sends the scores to the Graduate College. One out of every four candidates fails the test, Seely said.

Candidates may retake the "speak test" up to two times within a three-month period, but no more than three times in a semester. Pronunciation courses are also offered for those who fail the test, Seely said.

But despite the higher standards, many students still complain that their international TAs cannot communicate effectively.

Wei He, a physics teaching assistant from China, said he gets "stuck" sometimes explaining a concept in class.

"Sometimes, I cannot pick out the right words to express myself," He said. "But if they give me some time, I can speak slowly and make myself understood."

He said he came to the University of Arizona in 1992 to become a TA but failed the "speak test." He worked as a grader until he passed the test in 1994.

"His accent kind of affects the way he explains the lab," said Sami Yacoub, a computer engineering freshman enrolled in He's Physics 141L lab section.

"But if you are willing to understand, it's fine," Yacoub said.

He said he writes a lot of information on the board to help students understand him.

"In class, they ask a lot of questions," he said. "But I think they do get used to the way I talk and the procedure of the lab."

Many international TAs believe that students should also bear some of the burden of communication.

Kirill Shokhirev, a introductory physics teaching assistant from Russia, said he uses transparencies, writes on the board and divides the class into small groups to overcome communication difficulties.

"I just say that if they don't understand, they should ask questions," Shokhirev said. "Sometimes, they just look at me without responding."

Shokhirev, who has been a TA at the UA since last fall, said students are not used to asking questions in class, and they do not seek help during his office hours.

"It's a problem," he said. "I tried to take their suggestions from last semester into account.

"I'm not sure if the problem is my accent or their lack of background in physics."

Ann Padias, instructional laboratories coordinator for the Department of Chemistry, said some students come into her office complaining that they are unable to understand their TAs' accents.

"Sometimes, when the student is really upset, we'll switch them to another section," Padias said.

Hermann Flaschka, head of the Math Department, said it takes a week or two for students to get used to TAs' accents.

He said international students start as tutors before becoming TAs.

"TAs are not put into the classroom until they've had some experience with students in a more informal setting," he said.

Flaschka said every TA is assigned to a supervisor and a course coordinator, and his department has not received any complaints about international TAs this year.

Likewise, Michael Shupe, director of graduate studies in the Physics Department, said his department has not received any complaints within the last year and a half.

He said better TAs are being selected because of the new "speak test."

Shupe said the new test is more effective because it tests for comprehension and a person's ability to communicate ideas.

"We can't pay them as TAs unless they pass the 'speak test,'" he said.

Matt Iles, a biology and geography senior, said an accent or limited vocabulary is an inconvenience but does not impede a TA's ability to teach.

"It is a question of students being lazy," Iles said. "There's definitely a group that isn't willing to try to understand."

Catherine Heeter, a civil engineering junior, said students should make an effort to communicate with their international TAs. Some TAs "go out of their way to make us understand," she said.

"It takes a while for them to get their point across," Heeter said. "You have to kind of adapt."