By Kevin Clerici
Arizona Daily Wildcat April 30, 1997

New coach, same ideas for Arizona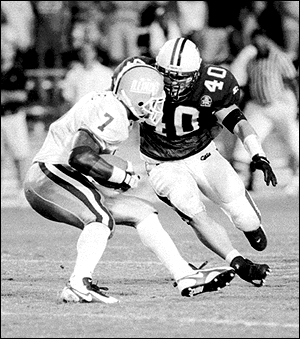 Adam F. Jarrold
Arizona Daily Wildcat

UA line backer Marcus Bell(40) makes a tackle during the Illinois game last season. New defensive coordinator Rich Ellerson said Bell had a strong spring is one of the favorites for the starting rover linebacker position in the fall.


Long after closing time, sitting in the dark surrouned by shelves filled with hundreds of videotapes, Rich Ellerson leans back in his chair, welcoming the interruption from the scrimmage beaming onto his projection screen.

Arizona's newly hired defensive coordinator, whose job is to bring back the swarming defense that ruled the college game in the early 90's, combs his hair over with his hand and offers the recliner next to him. The tape running happens to be of Oregon's G reen and White game, the same team Arizona and Ellerson's refined defense will open against 128 days from now in Eugene.

Ripped for 462 yards of total offense by the Ducks in last season's meeting, Ellerson was brought back Ä he coached linebackers and the defensive line at UA from 1992-94 Ä to bring back the run-stopping defenses of old. Replacing Larry Mac Duff, who took the job of special teams coach with the New York Giants, Ellerson now sits, takes a deep breath and talks a little defense.

"You know there is a long tradition of defense here, it's almost a legacy," he said, turning off the projector. "That's nothing but a positive, though people expect a swarming defense. If we stop everybody, I will be hailed a genius and if we give up game s like Oregon, people will call me an idiot. "I am just going to coach and try to put guys at positions on the field where they are comfortable and they can excel."

Mac Duff was considered the architect of Arizona's flex defense, but Ellerson was his righthand man as it developed, which was the kicker as UA head coach Dick Tomey looked for a replacement this spring.

"He's one of the only guys in the country that could replace him (Mac Duff)," said Tomey earlier this year.

Ellerson, who was head coach at Southern Utah (4-7) last season, said he isn't making any major changes to the system, but with opponents starting to figure out what works against it, some things must improve.

"There is more in the scheme than we have ever shown," he said. "Stuff that is based on the mindset of what we want to accomplish, but things we haven't shown before.

"You have to create a monster of mobility, but we don't want to confuse players with what we are after as a whole. The biggest thing is remaining healthy, especially in the defensive front. You can't overemphasize what that means."

While his enhancements are still a few months away for UA faithful, the players have been witnesses since day one of spring drills.

"Coach Ellerson is a genius when it comes to coaching, he's such a great motivator," senior defensive end Mike Szlauko said. "He definitely complements the staff. We have worked harder this spring than any other year since I have been here."

The younger players agree.

"I've known him since high school, he recruited me here," said sophomore Marcus Bell, who is the leading candidate for the roving linebacker spot. "He's a great coach, if anyone knows this defense, it's him."

Nice words for a guy who had mandatory 6 a.m. practices.

"I wouldn't say my relationship with all the players is all the way intact, but it will grow," Ellerson said.

"There is a lot of talent on this team. Things could get real exciting in the time to come."