By Biray Alsac
Arizona Daily Wildcat May 1, 1997

This weekend's dance concert...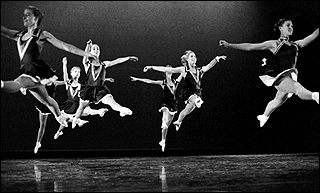 Ian Meyer
Arizona Daily Wildcat

The UA Dance Division dancers lead into a sports-inspired piece at Centennial Hall.


biray@u.arizona.edu

It's National Dance Week, and the faculty and dancers within the UA Dance Division have prepared rigorously for their upcoming spring concert "Celebrate Dance." Along with many presentations that the Dance Department hosts, this performance is especially reserved for faculty members, giving them the chance to display their artistic talents through the visually stimulating dances they choreographed.

The program includes a unique blend of ballet, jazz and modern dance. Six original dances are being premiered, each coreographed by a different faculty member.

The show opens with a modern piece choreographed by Amy Ernst called "Bernstein's Reply." The dance incorporates several compositions from Leonard Bernstein (whose musical theater credits included "West Side Story," "Candide" and "Wonderful Town"). The program also includes jazz instructor Susan Quinn's "Sabor a Mi," a tango blending the traditional Argentinian spirit and passion. Live musicians supplement John M. Wilson's piece "Creation" dealing with the exploration of the Big Bang, mutation and the evolution of beauty.

A great deal of time and effort goes into creating an effective piece. Most of the faculty begin choreography within the first month of the second semester. For Jory Hancock and Melissa Lowe, it took a score composed by Francis Poulenc to allow images and ideas to unfold. "It was so sporty and festive and had many interesting flavors," Hancock said, "That's how we came up with the theme of games." A ballet with three movements, the piece depicts different types of sports. The first movement, called "Single and Doubles," focuses on individual sports such as archery, bowling, tennis, golf and boxing. This is followed by a second movement which represents water activities.

I was completely moved by this portion of the dance. This segment is so delicately constructed, you can't help but be completely drowned by the graceful and articulate movements of the backstrokes, butterflies, and dives. Absolutely beautiful. The last movement represents team sports such as volleyball, baseball, football and basketball. Naturally, this portion of the show is dedicated to the athletes of the University of Arizona. "We wanted to show how athletes and dancers are so alike," Hancock said.

Lastly, Michael Williams closes off the concert with his contemporary jazz piece called "Pockets." The idea behind his first movement is simply stated by the song "You Can't Hold No Groove, If You Ain't Got No Pocket." The music provided by Victor Wooten definitely keeps the dancers groovin' and your feet tappin'. The second segment focuses on "pocket partnering," which is all about the relationship between pockets. There is a lot of emphasis on dancing in couples and triples. The last movement is about "letting it all hang out" as Williams describes it (the pockets of the dancers' pants are turned inside out). What makes this piece vibrant is the uses of harsh light, opaque colors and appropriate costume (shirt and pants, with pockets, of course). The intricate choreography is effective, and there is movement that fills up every beat and note of the song € allowing no part of the music to go to waste, which makes this dance fascinating to watch. William states, "I think this piece will be received well because it is light, energetic, and challenging for the dancers."

Each dance has it's own flavor and style which, I'm sure, will be another addition to the department's successful repertoire.

The UA Dance Division has an exceptionally developed group of aspiring young dancers and refined faculty, whose dedication and passion for the art radiates through each dance and movement. Don't let this concert leap by you.

"Celebrate Dance" will be at Centennial Hall Friday and Saturday, May 2 & 3 at 8 p.m. General Admission is $10 and $7 for students & senior citizens. For more information call Centennial Hall Box Office 621-3341.