By Keith J. Allen
Arizona Daily Wildcat May 7, 1997

Bystanders say use of force unneeded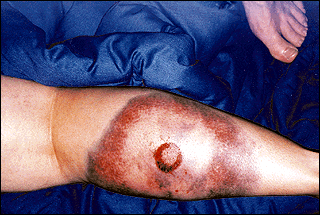 Photo courtesy of Alexander Berreth
Arizona Daily Wildcat

This photo shows the wound Doris Mihm, a graduate student in East Asian studies, sustained April 1 after being hit by a flex baton. Tucson police used flex batons to move back crowds that formed during celebrations of the Wildcats' National Championship v ictory so they could deploy tear gas and pepper spray to disperse people.


Several people are questioning the use of non-lethal projectiles that were shot to disperse crowds on North Fourth Avenue during the National Championship celebration in the early morning of April 1, but police officials say the crowds' actions justified the use of force.

Lt. Bill Richards, a Tucson Police Department spokesman, said police used the flex batons to back the crowd away so that police could shoot tear gas and pepper spray, which would then disperse the crowd.

Flex batons are bags of pellets that are fired from a shotgun, Richards said. He said flex batons are non-lethal projectiles.

Richards said flex batons would probably leave a bruise and make people hit by one feel like they have been hit by a baseball. He said flex batons have been used by Tucson police for about four years.

Mark Konty and David Richmond, both graduate students in sociology, were on Fourth Avenue April 1 and said police never warned the crowd before shooting pepper spray, tear gas, and some sort of projectile from a shotgun.

Richmond said he received a "perfectly round" wound on his back after being hit by an unknown object. He said the wound, which later scabbed up, was definitely not caused by a rock or bottle.

A classmate told Richmond he may have been hit by a BB bag which is shot out of a shotgun, he said. Both men said they saw a police officer chasing after a group of men with what looked like a shotgun.

Konty said four or five projectiles "whizzed" by his ear, though none hit him. However, he said a TPD officer did spray pepper spray in his face.

Richmond said that it took about 30 seconds for him to get out of the street. He said the police action was effective.

Doris Mihm, a graduate student in East Asian studies, and Matthias Krebs, a graduate student in electrical computer engineering, were also hit by projectiles that night.

Mihm said she suffered a large bruise on her leg, while Krebs said he received a 7- to 8-inch bruise on his buttocks.

"The police overreacted. They didn't really disperse people, it didn't make much sense," Krebs said.

Mihm and Krebs said police just told them to "move," but they said there was no warning.

Richmond said he saw one officer in front of a police line telling people to go home, but Konty said police never warned the crowd to "leave now or be arrested."

Konty and Richmond said they felt safe early in the celebrations, but the scene changed later when the police started to clear out the streets.

He said police lines started moving April 1 about 1:15 a.m. He said he was standing on the corner of East Fifth Street and Fourth Avenue when police finally started to clear the area of the remaining people.

"You had to expect it," Konty said of the police actions. "It was my own fault for being there. The indication was that I was safe on that corner. I felt safe from the police."

"It was weird," Richmond said. "Even with the gas masks on the southern line, I never felt that they would direct anything at me."

Richards, of TPD, said the police force was justified because criminal damage had occurred on Fourth Avenue. Moreover, he said people had been throwing bottles and rocks at the officers.

"Cops don't come to work looking for a fight," Richmond said. He said TPD decided to put their officers in their regular uniforms, without extra gear, until the crowd started getting out of hand.

Richards said officers were told before the celebrations began that if the people "ain't misbehaving, let them celebrate."

"Nothing in my mind justified those people's (the crowd's) actions," said Sgt. Eugene Mejia, a TPD spokesman, about the criminal damage and the crowd's actions on Fourth Avenue.

Mejia said the criminal acts that occurred that night gave justification for the police to disperse the crowd. Had the crowd dispersed when ordered to, he said the police would have never taken action.

Tucson police reports stated that an estimated $4,500 in damage occurred on Fourth Avenue from the celebration.

Tucson police had to call in extra officers from their regular patrols and officers from the Pima County Sheriff's Department to help control the crowds, Richards said.

Tucson police and the Sheriff's Department had about 250 officers working during the night of the celebrations and into the early morning.

Richards said he believed a criminal element in the crowd affected the rest of the celebrants.

Richards said numerous warnings were given on local television stations, on radio, over loudspeakers on an overhead helicopter and patrol cars in the street, and from officers walking in the crowds.

"Repeated warnings were given," he said.

Mejia and Sgt. Leonard Pratt, a spokesman for the Pima County Sheriff's Department, also said warnings were given to the crowd.

Pratt said there is the possibility that people in the crowd may not have heard the warnings because of the noise level. He said it is also hard for the police to ensure that everyone heard the warnings, especially with the number of people moving in and out of the area.

Richards said people were irresponsible if they did not bother to check whether the celebration was safe. He said people in the street ran the risk of getting caught up in the police action and they needed to take a civil responsibility.

However, Konty and Richmond felt that the crowd would have died down without the use of police force.

"It wasn't a riot. A few people were throwing bottles, but everyone else was standing around," Richmond said. He added it was "guilt by association."

Richmond said he saw some "kids" throw bottles at the officers coming from Catalina Park. He said he saw those "kids" run behind a group of people near It's 'Bout Time, 616 N. Fourth Ave.

Konty also said he saw people throwing bottles at the police.

He said the people were outnumbered by the police when police started to disperse the crowd.

"As a sociologist, if the cops would have kept their heads, there wouldn't have been violence," Konty said.

Richards said that 10 years ago, police would have had to used tear gas, dogs and fire hoses to disperse the crowd.

"It is much more menacing with the dogs, and a fire hose can knock a person down," Richards said. He said the department tried to use the most minimal force possible.

The officers showed "tremendous" restraint, Richards said. He said the incident could have been a lot worse.

"In the totality of the incident, shops were not burned and no one was assaulted," Richards said.

Tucson police are putting together an internal report, which has yet to be completed, on the police actions during the celebrations after Arizona's victory over Kentucky, Richards said.

Sgt. Edward Dobbertin, of TPD's Internal Affairs Division, said three or four complaints were made to the department about police actions during the celebrations on Fourth Avenue. He said he could not comment on what the content of the complaints, but he said they are being reviewed.