By Edina A.T. Strum
Arizona Daily Wildcat June 11, 1997

Coca-Cola honors Wildcats with commemorative cans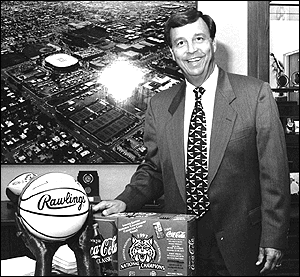 Dan Hoffman
Arizona Summer Wildcat
UNiversity of Arizona Athletic Director Jim Livengood stands with cans o Coca-Cola commemorating the 1997 NCAA champion UA men's basketball team. The specialth cans, which became available in Tucson and Southern Arizona markets Monday, generated $50,000 in scholarship funds for the athletic department.
Coca-Cola Bottling Co. and the University of Arizona have teamed up to keep the spirit of the UA men's basketball championship alive.
Commemorative Coca-Cola Classic 24-packs hit stores across Southern Arizona Monday.
At the same time, Coca-Cola presented the UA Athletic Department with $50,000 in revenues from the commemorative cans.
Steve Sullivan, director of marketing and promotion for the Athletic Department, said the money will most likely be used to fund scholarships.
"I'm really excited," said Jimmy Curry, general manager of Coca-Cola in Tucson.
"It's two champions getting together for a promotion."
Curry said Coca-Cola has done commemorative editions after Final Four victories in other states and began work on this promotion just after the Wildcats' March 31 victory.
He said people from across the country have already started calling his office to find out how they can get the cans.
Cheri De Maio, spokeswoman for Ad Dimensions, Coca-Cola's representatives, said the promotion is planned to run for a minimum of four weeks. If all the cases sell out, a second distribution will be made.
The UA will receive an additional $50,000 if a second round of cans is distributed.
The cans are only available in 24-packs because there is also a contest entry in every pack, De Maio said. The winner will receive either tickets to the Maui Classic in November or UA men's basketball season tickets.
The cans are available everywhere Coke is sold in Southern Arizona.