By Jason A. Vrtis
Arizona Summer Wildcat June 25, 1997

The Competitive Edge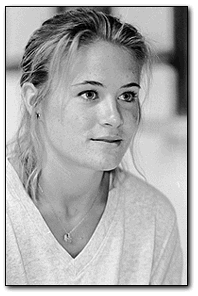 Robert Henry Becker
Arizona Summer Wildcat
Amy Skieresz
Like most runners, the UA's Amy Skieresz is not immune to pre-race apprehension and fear. She still gets scared and she still worries about her opponents, but unlike most runners, Skieresz is able to put that all behind her as the starter pistol is fired.
"As soon as the race starts her whole persona changes. You can just see it in her face," said Dave Murray, the University of Arizona's head coach of track and field, and cross country. "She's determined, focused and motivated. She's everything she needs t o be, to be the first to cross the finish line and nothing is going to stop her."
This season Skieresz has crossed that finish line first many times in accomplishing something that no other NCAA Division I track and field athlete, male or female, has ever done before: winning four national titles in one season. In fact, no other female track athlete has gotten close to her record. None has won three titles in one school year.
In December, Skieresz became the first UA runner to win the NCAA Cross Country Championship at the Dell Urich Golf Course in Tucson. Then in March she won the 5,000-meter at the NCAA Indoor Championships.
And after her double victory at the NCAA Outdoor Championships this month in the 5,000- and 10,000-meter runs, Skieresz completed the unique athletic feat.
"It was kind of perfect. I had a solid year and I was able to stay injury free," Skieresz said.
After a second-place finish as a freshman at the cross country championships, Skieresz was one of the returning favorites heading into this year. But nobody, not even herself or her coach, thought she would win four.
"A lot of expectations were put upon me," Skieresz said. "I just tried to block it all out and just concentrate on the individual races and things worked out pretty well."
Skieresz admitted she had a little added incentive to do well this year and stay injury-free: She was knocked out of last year's Pacific 10 Conference and NCAA Outdoor Championships with a foot injury.
"I was a lot smarter this year with my training. I listened to my body more and didn't try to overextend myself," she said.
Murray said athletes sometimes will get overconfident or cocky after accomplishing something that no one has done before. But not Skieresz, he said.
"She is so far from having an ego. When she goes into a race she thinks she could be last as well as first," he said. "She still has a sense of humility and she knows she's going to have to run well to win."
Murray, who has dedicated more than 30 years of his life to the sport of track and field, rates her performance at the very top in the annals of UA sports history.
"She may not get the notoriety of the higher profile sports, but she is the best and most dominant distance runner in the country. She is in a class by herself," Murray said.
Skieresz has the rare combination of dedication, skill and positive attitude that coaches look for in their athletes.
"She is a coach's dream. She listens to what I say and executes, and that's the bottom line," Murray said. "Plus, she is an outstanding athlete and person."
Skieresz credits much of her success to Murray. She said that during the two years they have been working together he has been a tremendous help in her maturing process as an athlete and a person.
"I have enormous confidence in him as he does with me. At times, with some of the things he tells me to do I think he's crazy, but I end up doing what he says," Skieresz said.
A perfect example of this was the outdoor championships in Bloomington, Ind., June 4-7.
After qualifying for the 5,000-meter final in a preliminary race, Skieresz had to run the 10,000-meter the next day. On her third and final day of competition - with her body already worn out - Murray told her not to be content with staying with the pack in the 5,000-meter, but to attack from the onset and break her opponents' spirit.
"I told her to run the 5,000-meter final like she was fresh, even though she was not, and she took the lead right from the start and never looked back. But she paid the price because for the last two laps she was a hurting puppy," Murray said.
Besides her coach, Skieresz is surrounded by moral support from her parents and friends who know a little bit about what she goes through to be at the level she has attained.
Skieresz said her father, Bill, has been an instrumental part of her success.
"We are a lot alike. We both have the same kind of determination and focus," she said. "When he sets out to do something he does it and I think I got that from him."
Bill Skieresz, who recently retired and moved to Tucson from Agoura, Calif., has had the chance, along with his wife Peggy, to travel to all of Amy's big races.
"He's also a runner and he definitely understands what's going on with me and what my times mean," she said.
Bill Skieresz said he looks at her in two lights. One as a parent and the other as an athlete.
"Both Peggy and I have a lot of pride in all she has done, but we've always looked at Amy's accomplishments as a way to make her a better person and we think that's happened so far," he said.
Skieresz' boyfriend, Ryan Wilson, has also been an avenue of strength for her.
Wilson is an accomplished runner in his own right. He finished second in this year's 5,000-meter and third in the 10,000-meter at the same outdoor championships. Wilson is a senior at the University of Arkansas, one of the premier running schools in the c ountry.
They met in high school in Agoura, Calif.
Wilson knows the work it takes to be at Skieresz' level of performance and he understands that being at a peak level for four events in one season is a phenomenal feat.
"She not only won all four, but she ran away from everyone else. It just shows how determined and dedicated she is," Wilson said.
But as Skieresz knows, next year presents a whole new set of challenges and expectations. Athletes from throughout the country will be working hard to knock her out of the top spot, but she said she will not let expectations get to her.
"I still just want to take each race as it comes and not get too far ahead of myself," she said. "I think the most important thing is to have another strong year, with solid training, and hopefully I'll stay injury free again."
And as for future goals after she completes her collegiate eligibility, Skieresz said it is too early to call right now.
"If I'm still improving and if I still love what I'm doing then sure I'll continue. I would love to run in the Olympics and do all that," she said.
Murray also acknowledged that Skieresz' future in running is entirely her own decision. From what he has seen, he said Skieresz is the best distance prospect right now in the United States and eventually could be an awesome marathon runner.
Despite all her recent success, Skieresz knows that in the game of running fame and fortune can go quickly.
"What I fear the most," she said, "is you hear all about those people who never quite lived up to the expectations. People always talk about them in the past tense, like 'she used to be good.'
"That's what I worry about. I want to keep improving," she said.
For now, Skieresz is attending summer school and taking some time to relax before July 4, when she will resume her rigorous training for next year.
She said she has not had time to reflect on what she has done and probably will not until her collegiate career is over.
She does hope that her success will breed an increasing interest in track and field.
"It kind of forces people to take a look at track and field. Win or lose people come out for football and basketball games, but there is nobody out on the track," she said.
"I hope more people will take more notice of it in the future."