By Amanda Riddle
Arizona Summer Wildcat July 9, 1997

Renting and Raving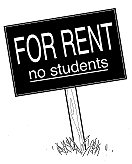 Peter Franken is living in a hotel, but just until he finds a house near the university to rent. He doesn't need to be in Tucson until school starts in August, but he's here early to secure a place to live. After two days of house hunting, he has found hi s task to be more difficult than expected.

"Either things are too expensive or they're junk," said Franken, a University of Arizona psychology graduate student and a recent graduate of Carnegie Mellon University, in Pittsburgh.

"I don't want to live in urban squalor anymore."

Whether new to town or simply wanting to move away from dorm and apartment life, UA students can run into problems like this, and many more, when living on their own.

House hunting

As the month of July heats up the town, it also heats up the pressure for students who have not secured a place to live for the next school year.

Pat Tracey, a broker with Real Estate Direct, 1801 E. Broadway Blvd., said many students have been looking for housing since April and May - some even earlier.

"When it's getting toward August, getting something is pretty tight," she said.

Tracey's business provides house hunters with a listing of available properties for the specific area of town they are interested in.

She said 40 percent of the properties listed in Real Estate Direct are also listed in other publications, such as the resources Franken is using.

But Tracey said the $45 fee to use the service is beneficial because the properties are divided into categories, unlike other listings.

Franken said he did not want to pay for a house-hunting service, but might have to if the Apartment Guide, daily and weekly newspapers and UA's off-campus housing, within Student Programs, do not help him. These are all free services.

Transfer student Joyce Bensch, who has spent the last two days searching for a place to live near campus, said using Real Estate Direct was helpful in her search, but it should be a last option because it involves a fee.

"A lot of the houses listed in Real Estate Direct didn't have signs in front of them, so it is helpful," Bensch said.

She said she tried other resources, such as newspaper listings but was not successful.

"I was hoping it would take a lot less time than it's taking," Bensch said. "I don't want to feel like I'm settling either."

She, like Franken, found that houses closer to campus tend to be more expensive.

Chris Maglione, a landlord with Maglione Rentals, 1221 E. Adams St., Suite G, said he believes people are willing to pay a higher price to be in a location that is close to where they want to be.

"Eliminating the cost of commuting makes it worth it," he said.

Tracey said the four-bedroom houses close to campus are renting at a higher price because there are less houses of this size in the central area.

"Because of the premium, landlords can afford to ask a higher price for them," she said.

Safety

Bensch said she was looking for a house that was close to campus because she is concerned about her safety when she returns home from school in the evening.

"I want to be close to campus is because I want to ride my bike," she said.

College students are not as concerned about safety as they should be, said Hector Raiz, a Tucson Police Department crime prevention officer. Raiz patrols the area west of Euclid Avenue.

He said students do not realize that they should expect their landlord to maintain a safe residence.

"You're going to have to have a landlord who cares. The landlord needs to provide reasonable means to secure the residents," Raiz said.

He said safer houses have motion-sensor lights and adequate lighting and are not located near liquor stores or areas frequented by transients.

"If the house is run down, it's an indication that the owners don't care. If the neighborhood is run down, it is an indication that the people don't care," he said.

To determine how safe the house will be to live in, Raiz said students should find out what the landlord is like, talk to other tenants in the area and drive around the neighborhood at night.

He also said a house that requires residents to park on the street can be dangerous. "The closer you can get your vehicle to a carport, the better."

Maglione said he provides a security patrol for his houses, duplexes and small apartments located north and west of campus.

But Maglione said he only rents to serious students because he does not want a party atmosphere which can create conflict between neighbors.

Discrimination

"I'm sorry we can't cater to everyone, but our niche is Ph.D. students and quiet undergraduates who are here to get an education and not here to tear up the house," said Maglione, a property renter for 21 years.

While Maglione rents to certain students who fit his criteria, there is no law against restricting all students from renting one's property.

Students are the only unprotected class of renters in Arizona.

Ariane Mele found this out two months ago when she inquired about renting a house through Prestige Property Management, 3205 E. Grant Road.

She was told the rental company had over 300 properties, only about 10 of which it rents to college students.

"They had quite a few properties in the college area, but the ones they will rent to college students are in the bad area west of Stone (Avenue)," Mele said. "I was really upset by this."

Elizabeth Pomeroy-Theoret, an investigator in the Attorney General civil rights office, said the Arizona Fair Housing Act protects groups from discrimination based on race, familial status, sex, national origin and disability.

"College students aren't protected because the Legislature has not come out and said this is a group who has experienced discrimination," Pomeroy-Theoret said. "In my opinion, this is because college students don't lobby."

The broker of Prestige, Jay Seidl, said real estate owners hire the company to manage their properties. Some owners, he said, instruct them not to rent to students because of bad experiences they have had with student tenants.

"They are afraid to rent to students because if they are selective within a group of students, they are afraid they will get sued," Seidl said.

However, it is not against the law to discriminate within the college population, as Maglione chooses to do.

"I think you have every right to discriminate between loud, partying college students and serious college students," Mele said. She said it is unfair to not even consider a college student as a tenant.

"We're not reckless college students, but we're not even looked at. It has to do with a label that is on us."

Mele said she plans to contact members of the State Legislature about her experience with Prestige.

Security Deposits

Susan Ferrell, Associated Students legal advisor, said 500 students a year come to her because of problems with their landlords.

Ferrell said that while "students do get taken advantage of" by some landlords, "there are also students who make their landlord's life miserable."

She said students often seek her legal advice because their landlord has not given back their security deposit.

Landlords have 14 business days after the tenant returns possession of the house to return the security deposit. However, because students are mobile and usually do not have the time to follow through, many landlords do not adhere to this law, Ferrell sai d.

If this occurs, students have the option of suing the landlord.

For a $19 filing fee at the small claims division of the justice court, a tenant can fill out the paperwork and send the notice to the landlord via certified mail. The landlord then has 20 days to respond or the case goes to court.

"It's very civilized because the judge is there to act as a referee," Ferrell said.

Landlord/Tenant Disputes

Students also have problems with landlords who are not maintaining the property, Ferrell said.

Ron Dietrick, a deputy city attorney for consumer affairs, said more than half of the telephone inquires he receives are about landlord/tenant issues.

"I think there are some landlords who figure they can get away with it (breaking the lease) because their tenants are students," he said. "Students are younger so they are at a disadvantage."

Dietrick said if a landlord violates the rental agreement, a tenant can send a non-compliance notice to the landlord, stating that if the repair is not completed within a certain time, the tenant has the right to move out.

"Sometimes I think people get hurt feelings if they think they have a good relation with the tenant and then receive a legal notice," Dietrick said.

He said students can also send their landlord self-fix notices, which inform the landlord the tenant will fix the problem and deduct the cost from the rent.

Dietrick and Ferrell said landlords cannot entitle themselves more rights in the lease than the law allows.

"My advice to students is to come see me with their lease before they sign it," Ferrell said.

Accessing resources

Ferrell said students can pick up a copy of the UA's Renters Handbook at ASUA, located above the bookstore. The handbook explains rental agreements and contains the landlord and tenant act and numbers for the ASUA Legal Service and Consumer Affairs.