By Todd Hardy
Arizona Summer Wildcat July 23, 1997

Likins chosen for UA's top spot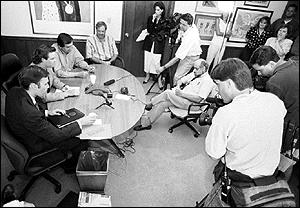 Robert Henry Becker
Arizona Daily Wildcat

Peter Likins is named as the new UA president via a conference telephone call that connected him with the Arizona Board of Regents and the media in Tucson, Phoenix and Pennsylvania. After the announcement, Likins answered questions about his plans for the university. At the table sit regents (from left) Jonathan Schmitt, Hank Amos and Arthur Chapa who mediated the call.


By a unanimous vote, the Arizona Board of Regents yesterday approved the appointment of Peter Likins as the 18th president of the University of Arizona.

Likins, 61, has been president of Lehigh University since 1982. He will replace President Manuel Pacheco, who left last week to assume the presidency of the University of Missouri system.

Regent John Munger nominated Likins at the close of a teleconference regents meeting.

"I believe Peter Likins will be one of the most extraordinary presidents the University of Arizona has ever had," Munger said.

After the vote, Likins joined the teleconference from Pennsylvania to speak with regents and field questions from the media.

After each of the regents congratulated him with words of praise, Likins joked: "Have I forgotten to say 'I accept?'"

The regents reached a tentative agreement with Likins yesterday afternoon, specifying the terms and conditions of the presidential appointment.

According to the agreement, Likins will take office Oct. 1, serving two years and nine months, through June 30, 2000.

Likins will have the option of appointing an interim president to oversee presidential matters until he takes office. If he does not appoint an interim, Provost Paul Sypherd will assume the university's presidential duties.

As UA president, Likins will earn nearly $28,000 more than Pacheco; however, he took a significant pay cut in accepting the regent's offer.

He agreed to an annual salary of $195,000 - about $70,000 less than he earned last year at Lehigh.

Pacheco's salary at UA was $167,432.

After the regents meeting, Likins said his first objective at UA will be "the education of the president.

"Anyone who harbors the illusion that he has all the answers is making a serious mistake," he said.

He said he looks forward to meeting with faculty, administrators, students and legislators to gain a better understanding of the role of president in a large university like the UA.

Lehigh - a private university in Bethlehem, Penn. - has a student population of about 6,300. The UA has about 35,000 students.

Likins said he is up to the challenge of leading "an important national institution."

"I'm excited. I'm just pumped. I haven't had such a sense of exhilaration in a long time," Likins said. "I'm ready to take on a whole new set of challenges and the University of Arizona is the perfect place for me to do that."

After Pacheco announced his resignation in January, the 23-member presidential search committee began looking for his replacement.

At the end of May the committee had 104 applicants for the position: 89 were male, 15 were female, and 14 were minorities.

Last week, the committee hosted three of those candidates - Likins, University of Pennsylvania Provost Stanley Chodorow and Kent State University President Carol Cartwright - for on-campus meetings with the university community and the search committee.

After the interviews, the search committee decided to forward the names of all three candidates to the regents.

However, Monday night Cartwright withdrew her name from the pool of candidates.

In a letter sent yesterday to Kent administrators, Cartwright said she withdrew because her work at Kent is not complete. She also mentioned personal reasons for her decision.

"In our mutual quest for student success, some of you know that there is one Kent student, my own daughter, who is experiencing Kent quality first hand. I'm thrilled to know that I'll be conferring her degree next year," the letter stated.

Her daughter, Susan Cartwright, 23, is a senior majoring in community health education at Kent.

Chodorow could not be reached yesterday for comment.

During the interviews, Likins distinguished himself from the other candidates by demonstrating an ability to deal effectively with faculty and students, while building strong ties with legislators and the business community, said Regent Hank Amos.

"I think Peter really rose above the other candidates in those meetings," Amos said.

Regent Arthur Chapa said he was impressed with Likins' ideas about integrating research with undergraduate education.

"He believes in blending research and teaching rather than finding a way to balance the two," Chapa explained.

Likins' willingness to reach out to students was another major factor contributing to the regents decision, said former student Regent Jonathan Schmitt, who served on the search committee.

"From a student's perspective, Likins is a true communicator," Schmitt said.

In a survey Schmitt and the other student members of the search committee conducted in February, most UA students said they wanted a more accessible president - something they said Pacheco was not.

Likins, who once spent a week in the dormitories, said he has built close relationships with many Lehigh students.

In his July 14 meeting with UA students, Likins said would try to develop the same kind of relationships at the UA.

However, because the UA's student population is much larger than Lehigh's, he said that contact will have to come through elected student leaders.

As part of his agreement with the regents, Likins will be appointed to a tenured faculty position as a professor of engineering.

Although he doubts he will have time to teach a class himself, Likins said he looks forward to collaborating with other professors.

"A university president is entitled to have a little fun, and teaching is the most fun I've had in my career," he said.

Likins began his professional career as a developmental engineer at the California Institute of Technology's Jet Propulsion Laboratory.

Before taking over at Lehigh, Likins spent six years at Columbia University in New York - serving as a professor, then dean of the engineering and applied science school and finally as provost of the university. He also spent 12 years at UCLA as a professor.

Likins earned his bachelor's degree in civil engineering and a doctorate in engineering mechanics from Stanford University. He also earned a master's degree in civil engineering from the Massachusetts Institute of Technology.

Likins and his wife, Patricia, have been married 40 years. They have an interracial family, including six adopted children.