By Amy Schweigert
Arizona Summer Wildcat August 6, 1997

This Week...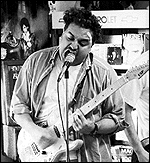 Dan Hoffman
Arizona Daily Wildcat

Local punk band The Weird Lovemakers, back from their two-week West Coast tour, performed at The Sound Addict record store Sunday afternoon. Their next concert is scheduled for Aug. 19 at Skrappy's.


Wednesday

Gallagher Theatre presents "Like Water for Chocolate," today through Friday at 7:30 and 9:40 p.m. Tickets are $2.50.

The Extension Garden Center, 4210 N. Campbell Ave., presents "Lawns Need Extra Attention Now," a garden demonstration and talk at 9 a.m.

John Allen, assistant professor of clinical psychology presents "Risk for Depression and Findings in EEG Research," in the Unitarian Universalist Church, 4831 E. 22nd. St., from 11:30 a.m. to 1 p.m.

Ruth Reiter, OB/GYN, NP, presents "Menopause Update," in UMC's Obstetrics and Gynecology Medical Office on the 8th floor from 6:30 to 8:30 p.m. The talk will discuss the physical/mental changes associated with menopause and the benefits/risks of hormone r eplacement treatment.

Arizona Historical Society, 949 E. Second St., presents "Our Legacy: Reflections of Arizona Leaders," from 7 to 9 p.m. Janet Marcus, Tucson City Council member representing Ward 2 is today's featured speaker.

Thursday

Artist Joshua Goldberg presents a gallery talk about Kabbalah, a mystical tradition in Judaism and the development of his work in the Joseph Gross Gallery, at the southeast corner of Park Avenue and Speedway Boulevard, at noon. Goldberg's exhibit, "Territ ories of Grace: Post-Holocaust Kabbalist Works," runs through Aug. 14.

Flandrau Science Center presents "The New Martians," a planetarium show Monday, Wednesday, and Friday through Sunday at 2:30 p.m. The show is also presented Wednesdays through Saturdays at 7:30 p.m. Tickets are $4 for weekday afternoon shows. Evening an d weekend shows cost $5 for adults, $4 for children under 13, and $4.50 for students, military, and seniors. "The New Martians" shows through October.

Friday

Stuart Hameroff, Professor of Anesthesiology, presents "What is Consciousness," at 8 a.m. in the Arizona Health Science Center's Room 5403.

Benefits Services presents Health and Dental Plans exhibit from noon to 4 p.m. in the Memorial Student Union's Senior Ballroom. Representatives from all health and dental plans will be to answer eligible employees' questions. Brochures and enrollment for ms will also be available.

Saturday

Gallagher Theatre will be closed. It will reopen Aug. 23 for the fall semester.

Sunday

The Saint Andrew's Bach Society presents "Desert Sand," a musical duo performing works by 19th and 20th century composers. At the St. Andrew's Episcopal Church, 545 S. Fifth Ave. Tickets are $8 general admission, $5 for students and seniors.

Monday

The UA RSI discussion group presents "Naturally Speaking," a software demonstration by Roger Rozen of Rosewood, Inc., from noon to 1:30 p.m. in CCIT Room 337. Naturally Speaking is a software package that allows the user to speak to computers.

Tuesday

Horticulturist Elizabeth Newton presents "Water Harvesting," at 7 p.m. in the Arizona Health Sciences Center's DuVal Auditorium. The lecture focuses on different methods to harvest and collect rainwater.