By Tom Collins
Arizona Summer Wildcat August 11, 1997

Waxing Alternative: Lollygagging at the annual summer music festival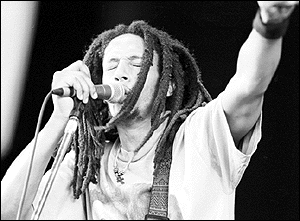 Robert Henry Becker
Arizona Summer Wildcat

Julian Marley and Damian (not pictured) kept the family reggae tradition alive with variations of traditional family songs and newer musical creations. The Marleys were the second act on the main stage.


Never been to a Lollapalooza festival before. No, not one, not even the storied event of 1994, when every now-21-year-old was introduced to P-Funk.

The mothership is flying with a new crew this summer, but what landed here last week was freaky enough, I guess.

My ears are still ringing.

Lollapalooza 1997 is the traveling alterna-fest's sixth summer and, it seems, a return to a line-up of relative obscurity and smaller fan bases. Which is to say, Metallica or any comparable super-band was not involved. Not even the Cheap Trick reunion.

But enough chatter, no?

It is time to tell the tale, for those who were not there to wonder at. And those who were there should take tissue to eye in tearful reminiscence. Or something.

First there was the frisking.

Outside the Blockbuster Desert Sky Pavilion, fans were separated by gender and asked to empty their pockets so that a security team member of the same sex could pat them down. Two Dumpsters were there for any contraband - like say - water. Water bottles a ccumulated and thirsty sweaty kids headed for the turnstiles and the cardboard painted sign that announced that , due to illness, Tricky, the world's foremost trip-hop DJ, and Korn, the world's foremost really loud, angry, scary rock band, would be sittin g out the stop.

Due to illness.

A little more on this a little later.

As we made our way into the amphitheater, through a gamut of booths selling Cat in the Hat hats and sunglasses and frozen fruit drinks and bongs, the band Failure opened the show on the main stage. Like many roaming package tours, Lollapalooza features tw o stages: one for the big guns and a second, smaller one for your up- and-coming musicians. (It's also a little tale of humanity at Desert Sky. The headliners play in an area that has shaded reserved seating in front of unshaded festival lawn seating. But over at the second stage, the audience is one. I'm not sure what that says about humanity, it's really just an observation.)

Anyhow. The music, what about the music?

Failure, an L.A. band with a personal link to superstars Tool (more later) sounded very much like that band. And very much like a lot of other sullen noisemakers of the last few years. This is not a bad thing, mind you, just the facts. We sat for a while then moved on. One thing you learn very quickly is that if you want to see 12 bands in eight hours, you got to keep moving. (Admittedly, sometimes we weren't fast enough, so we missed a couple.)

Moving to the second stage we discovered the found-sound funky freak-out of Skeleton Key. A bassist, a guitarist, a drummer and a percussionist who plays everything from buckets to propane tanks. Rick Lee would jump out from time to time to yell into the microphone with a funnel or play the reed of a saxophone. Good stuff.

Next we caught up with Detroit's Demolition Dollrods, a real strange crew. When you see a band get on stage in vinyl G-strings and mere bumper stickers over their breasts - the difference between audacity and obscenity- you know you're in for something. Y ou're in for two girls and one guy, two drums and two guitars and just about the most gloriously horrendous rock 'n' roll thing you've ever seen. As the lead singer said, they don't use a set list, they just wing it and it's different every time.

One of the women plays the two drum drumset while, banging away in 2/4 time. Bum-bum, Bum, bum. While the other two members of the band gyrate around banging on their guitars like ten-year-olds in the garage and sing (sort of). The set ended in a feedback barrage that was highlighted by the female guitarist bonking the top of her head with her guitar. Whole new technique. Biggest thing since Van Halen invented tapping.

Now to the main stage for sensitive, British, James. The six-member band was dressed in various colors of lame, lead singer Tim Booth in a cowboy hat. The last time I saw a picture of these guys, it was the picture of wispy college rockers. Now they look a lot like U2. They sound a little like The Church, and really a lot like U2, circa 1988. With that cowboy hat on, Booth looks a lot like Bono.

They sounded good and earnest - a throw back to those days when it was okay to believe in something, even if it was love.

Booth played the rock star, using his cordless microphone to take a stroll through the audience while singing "Sit Down." He was followed by a phalanx of security guards in case anyone got rough. It was all handshakes and hugs until he got to the sullen k id a couple of rows away from us.

The kid was apparently really pissed about the lack of Korn at the concert and kept yelling at Booth and banging on his chest. Booth just looked at him and kept singing, totally unfazed. We love rock stars.

As the band ended its set, Booth sent his love to all the Korn fans. Stupid kid gave him the finger. We love rock stars.

Now, beyond never having been to Lollapalooza, never having been to a rap show either, so seeing Snoop Doggy Dogg seemed essential. Perhaps I still don't get it. The mix coming out of the speakers was so bassy that, you really couldn't understand a thing during the songs. The crowd was into it. Snoop and his cohorts excoriated the audience to keep the party going in between numbers. Then, it was time for a "chronic break."

Snoop required a cigarette containing a green, leafy substance.

They got tobacco cigarettes and bowls before a joint finally made to the stage.

Phoenix was in a frenzy to see somebody smoke on stage. Snoop did it - not before asking who was going to come fuck up the cops if they tried to grab him. Every last member of the audience was ready to step to that. By the time the sun was going down, the audience was ready for what, given the number of T-shirts seen, was the key to the evening.

Never realized how popular this band had become.

Talking about Tool.

The crowd was on its feet, excited. More so every time a roadie stepped out to tune an instrument or whatever. "Tool" chants and waves of rhythmic clapping ran up and down the audience. We love rock stars.

Except, I guess, for the guy talking on his cell phone a row up.

Tool came out en masse and quietly, lead singer Maynard James Keenan in drag.

A white square moving through black space, the cover art from their last album, shown on the screens above the band. It was fitting. The band put together a 90-minute set that was like a brick wall flying through the air.

Heavy.

This is real old fashioned, live-from-the-psyche rock 'n' roll. Keenan alternately lurched around in his heeled platforms and curled up in a ball. The rest of the band stayed in the shadows, pounding away. The crowd which moshed at the opening song, seeme d to mellow out and listen, totally absorbed.

Teenage angst is still alive. The drama is still for sale.

By the way, Keenan is selling his car. He asked the audience if anyone wanted to buy it. He dedicated a song to his son. He asked how Arizonans can stand the heat. He mentioned some of the apparel available on the concourse. This is not, apparently, your typical hard rock band.

Couldn't keep your head from bobbing.

And then it was time for our headliners.

Roadies scurried around the stage, each one with a job to do. It was like watching a National Geographic special about ants.

They took the pentagram emblazoned gong from the Tool show away. The 12-foot light towers from the rafters. They brought out this sort of spaceship control panel and then it was time.

Time for something that doesn't really fit in at Desert Sky, at least in the seated area. You know, because Prodigy is all about the beat. And the beat is about dancing. And seats limit the dancing. When one stands up looking at a stage you want to focus your attention. Prodigy has Liam Howlett jumping around inside this spaceship constructing songs without instruments. Keith Flint (the Firestarter guy) and Maxim Reality jump around the stage, yelling into microphones.

Flint did provide a show, jumping into the audience and throwing himself against the monitors. Eventually they were joined by Sid Vicious-looking guitarist Giz Butt.

The problem, for me anyhow, was that music was broken up into specific songs, which screws up the vibe of the party. I was waiting to hear "Firestarter," . and I did. It's a really fucking catchy song.

And after all, it's about the music.