By Jason A. Vrtis
Arizona Summer Wildcat August 11, 1997

Bull's sharpshooter talks with Wildcat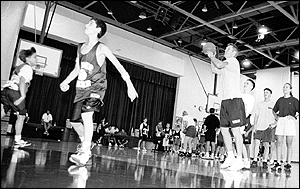 Robert Henry Becker
Arizona Summer Wildcat

Steve Kerr, of the Chicago Bulls, plays Knock Out- where the second shooter has to make a basket before the first- with the kids at his basketball camp at St Gregory's. Kerr hit the winning basket in the final game of this year's NBA Finals, giving the Ch icago Bulls the title again.


Steve Kerr is considered one of the best pure shooters in the game, with the UA's and NBA's highest career three-point shooting percentage.

Yet, he did not drain a three to put his name among the NBA's playoff legends, rather an inconspicuous 17-foot jump shot fell in the final seconds of game six to seal the Bulls second straight title.

Kerr never hesitated and hit nothing but net, bringing memories of former Bull John Paxson to mind. Paxson's shooting heroics in the early 1990s helped the Bulls to three straight titles.

But if Kerr had known what was riding on that shot, besides the championship, he may have not been so fortunate.

Since that incredible night in June, Kerr, a self-described "normal guy" who never received much attention, has skyrocketed into a new found celebrity status.

The Bull's rifleman has been a guest on "Jay Leno's Tonight Show," threw out the first pitch at a Chicago Cub's game and appeared at numerous speaking engagements and charity events this summer.

Last week, Kerr hosted his fifth annual basketball camp at St. Gregory High School. Kerr spent the week with 144 kids ranging from ages 8 to 15. The Arizona Summer Wildcat caught up with Kerr and got his thoughts on his exciting season and the University of Arizona's national championship.

Wildcat: Has your life settled down since Game Six of the NBA Finals?

Kerr: What I've done is try to take couple of weeks off here in Tucson and not schedule anything. It has been nice. I got to play some golf and hang out with my family, but next week I'm headed back to Chicago for more appearances. It's amazing. I could schedule something in Chicago almost the entire summer.

Wildcat: Describe your feelings on the UA's national championship?

Kerr: It made me so proud. I was just really excited for Lute and his staff. I was just thrilled for him. Just knowing what it felt like from the previous year's NBA Championship I was just thrilled for those guys.

Wildcat: Did you feel the Wildcats earned some redemption after coming so close in the past?

Kerr: I felt that Lute was finally redeemed after coming so close. I felt personally responsible in '88; I had a terrible game in the Final Four and we lost. I know Damon Stoudamire felt the same way. He didn't play well against Arkansas in '94, so both of us felt we could've played better. I still feel we should of won it all in '88. Fortunately, I've gotten over it by now.

Wildcat: How does it feel to be part of one of the greatest teams in NBA history?

Kerr: I still pinch myself when I think about it. Four years ago I was at the end of Orlando's bench and possibly my career. I didn't have any legitimate offers the following summer as a free agent. So I really took a chance with the Bulls thinking I coul d fit in there. I never would have guessed that four years later I would have two rings and had hit a game winner in one of the finals.

Wildcat: What are your thoughts on one more season with Chicago?

Kerr: I'm excited to have one more shot at a title. Almost everybody is under a one-year contract and this is my last year under contract so it's kind of fun to go out with everybody else. Jerry Krause has already announced that this is Phil's (Jackson) l ast year, which to me is ridiculous. I mean if we win another championship wouldn't we want to have another shot at it.

Wildcat: How many years do you think you have left?

Kerr: Three more years is my goal. It depends on how my body feels. If I feel beaten up next year and in pain then I'll stop. First and foremost I want to be healthy. So I'm not going to run myself into the ground, but I felt great this past year and I haven't missed a game the past four years, so I don't see any reason why I can't play three more seasons.

Wildcat: How do you feel about being a role model to these young kids at your camp?

Kerr: I think I'm a natural role model because I'm kind of a normal guy. But since I'm in the limelight and I'm a family man that doesn't do drugs, I'm automatically thrust into that position. As a parent I know that I want my kids to see people who are doing well without breaking the law or doing drugs. I really don't think about being a role model. I just live my life and that's it.