Volume 90
Wednesday
Number 25
September 25, 1996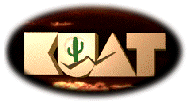 Public television budget cuts having little effect on KUAT
Congressional budget cuts that have decreased funding for public television programming appear to be increasing local support to keep KUAT alive.



U.S. government should recognize homosexual marriages
Opinion by
Jamie Kanter:
How do I define marriage? I would say that marriage is a spiritual union between two people, a cosmic connection which draws two individuals together for love. If this is the case, homosexual marriage cannot be wrong or immoral. If two individuals love each other, they should be together, no matter their gender.