Volume 90
Friday
Number 27
September 27, 1996
Construction worker injured on the job at the Law building
A construction worker sustained a concussion shortly before 11 a.m. yesterday when a concrete pumping hose fractured on the second floor of the College of Law building.

Alfred Moreno, an employee of Prairie Concrete Construction, was transported to University Medical Center with a cut, concussion and some concrete in his eyes, said Paul Carlisle, the Law College site supervisor.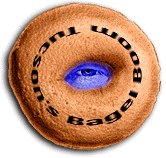 Today, the bagel has made its way from the street to being revered as one of the fastest growing food fads of the '90s. The bagel, like pizza and the hamburger in the '70s, is fast being baked into American culture, and bagel shops are opening rapidly nationwide.