Original, repackaged KISS recreate the spectacle for fans

by
Ed Spyra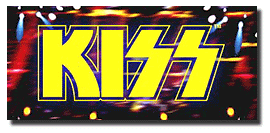 The original repackaged KISS, on the biggest concert tour of their history, returned to Phoenix last Wednesday to add the America West Arena to their reconquered list.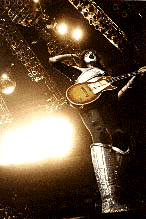 The concert featured the complete package, including costumes and flashpots, in a celebration of KISS at it's pinnacle.
Songs included "Duece," which opened the show, and favorites "Dr. Love," "Firehouse," and show stopper "God of Thunder."
Fans are playing a more intricate role during this tour, posting advice on the World Wide Web on which souvenirs to buy and reviewing the concerts. One of the best sites is KISS OTAKU (Japanese for socially inept, but tecnological wizards obsessed with gathering information).
"It initially covered 1995's Convention Tour and included a link to the KISS Army Depot where fans could buy recent, official KISS merchandise," said the site's creator Michael Brandvold, thru e-mail, of course.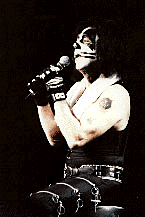 Drummer Peter Criss has a contrasting view of the 'net.
"I wouldn't waste my time," said Criss in an interview last month. "I'm not a computer guy."
Brandvold said that he never actually keeps track of the time he donates into this ongoing project, but estimated anywhere from 1-2 hours a day, 8-24 hours on the weekends.
Bassist Gene Simmons is well known for his involvement on the computer networks. Brandvold said he talks with KISS management on the phone at least once a week.
"Gene's e-mails are usually short, asking for hard copies of my site," Brandvold said.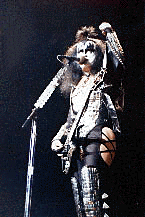 The chance to see KISS unmasked again ended last Monday when guitarist Bruce Kulick and drummer Eric Singer, members of KISS along with Simmons and guitarist Paul Stanley before this reunion tour began, announced their departure from the KISS family. However, they have a finished studio album ready for release, and Stanley has said it's KISS' strongest studio album ever. Keep in mind that their last studio album, 1992's "Revenge," debuted on Billboad's Top Ten at #6.
In a recent interview, Simmons sounded cheerful about the unreleased recording, supposedly titled Carnival of Souls. "We handed it in to the record company, and the rest is up to them," he said, hinting it's their decision when to release it.
Reportedly, Frehley also has finished recordings that he would like to release and promote. Criss has spoken of retirement plans for a quiet life in Hawaii.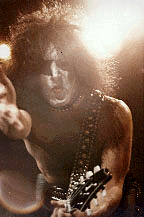 "We're taking it a day at a time," said Criss about the future of the original KISS. "We didn't think this was possible, so I say now anything's possible. I don't think recording together is out of the question, but it would have to be great material for us to do that."
But, in one form or another, KISS will continue. Stanley recently said, 'there'll be a KISS after we're long gone.'
From top to bottom :
Ace Frehley, Peter Criss, Gene Simmons, Paul Stanley
All photos by Ed Spyra
C o p y r i g h t - 1 9 9 6