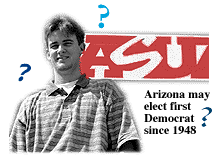 Reports circulating around the political campfire in Arizona are suggesting that the state's electoral college may carry its first Democratic presidential candidate in nearly 50 years.

Arizona last voted for a Democrat in 1948. In that year, Harry Truman became president. In this year's presidential election, Democratic incumbent Bill Clinton, 50, is being challenged by Republican Bob Dole, 76.

A poll conducted earlier this month in Maricopa County, a predominantly Republican area, showed Clinton with a 19 percentage point lead over Dole.