Volume 90
Thursday
Number 7
August 29, 1996



UMC flushes infected pipes
Super-chlorinated water was flushed through the water systems of the Arizona Health Sciences Center complex yesterday in another effort to kill the bacteria that causes Legionnaires' Disease.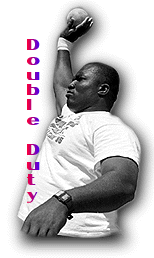 Olympic shot putter Chima Ugwu will try his hand at football when the UA team opens its season Saturday.
Arizona defensive lineman Chima Ugwu is big enough to leave an impression wherever he goes. Standing at 6-foot-4-inches and weighing over 300 pounds, it is easy to see why Ugwu is unforgettable.