By Keith J. Allen


Arizona Daily Wildcat

January 17, 1997


Courtesy of University of Arizona Police Department
Arizona Daily Wildcat

Police sketch of the man university police are seeking after a female UA employee was assaulted outside of the Education building early Tuesday morning.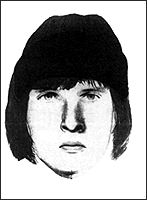 UA employee was sexually assaulted by male stranger
A UA employee was sexually assaulted early Tuesday morning near the Education building, 1430 E. Second St., while picking her husband up from work, university police reports stated.

The woman's hair was grabbed from behind by a man as she turned a corner near the building's northwest side facing East Second Street about 12:20 a.m., according to police reports. The reports also stated that after the man grabbed the woman, he pulled he r head towards him.

According to police reports, the man said, "Are you looking for a man? I am here. Do you want to fuck? I can help you."

The woman then screamed and broke free of the man's hold. Police reports stated that after finding a door ajar, the woman went into the building and paged her husband.

Police are now seeking a 25-year-old Caucasian male with straight yellow/blond hair and bangs hanging down to the bridge of his nose. He is about 6 feet 4 inches tall and weighs approximately 230 pounds.

The man was last seen wearing a blue windbreaker, blue jeans, white high-top tennis shoes and a white stocking cap.

The woman told police she was trying to contact her husband, who was working in the building, by knocking on the doors and yelling his name.

Police reports stated that after the assault, the woman saw the man ride eastbound on East Second Street on a black motorcycle.

Once the woman returned to her car and drove southbound on North Cherry Avenue, she once again saw the man following her vehicle. According to police reports, she turned right onto East Fourth Street and lost the man.

Police reports stated the woman "felt a strain in her neck, shoulders and mid-back area."

She was not treated for her injuries, said Lt. Brian Seastone, University of Arizona Police Department spokesman.

Seastone said the attack is considered a sexual assault because of what the suspect said and the way he grabbed her hair from behind.

This is the first "stranger" sexual assault reported at the UA since 1991, Seastone said. He said that usually, sexual assaults on campus are related to date rape.

Further information about the incident could not be released because of the ongoing investigation, Seastone said.