By Megan Rutherford


Arizona Daily Wildcat

January 17, 1997


Tanith L. Balaban
Arizona Daily Wildcat

Several UA student tenants at Sun Terrace Apartments, 1150 E. Eighth St., received eviction notices after winter break when confusion with late rent payments occurred. College students who rent apartments often have problems with lax landlords, but renters have rights that they should be aware of.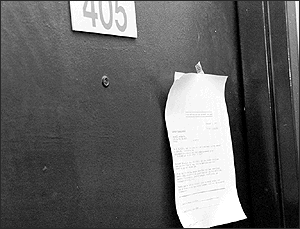 Student tenants should know renters' rights
College students renting an apartment for the first time should be aware of their rights concerning their landlord's obligations to them.

Susan Ferrell, Associated Students' legal adviser, said problems with landlords are often the subject of her consultations with students asking for her advice.

"My guess is that landlords think they can get away with or put things off since the students will be leaving," Ferrell said.

She said college students are an easy target for lax behavior from landlords because they usually have never rented before and are transient.

What students may not be aware of is that they have several avenues to take when their landlord is not keeping up the premises.

According to Ferrell, the Arizona Landlord/Tenant Act allows renters to pursue "self help" for minor defects on the premises that the landlord will not fix.

First, Ferrell emphasizes that any request for repair of a defect be put in writing and a copy of the letter should be made for proof. The cost for repairing a defect must be less then $300 when pursuing self help, the act states.

The landlord has 10 days after the request to correct the problem. After that, the renter can have the work done by a licensed contractor and give the bill to the landlord who must then pay the bill, Ferrell said.

For problems over $300, the renter can legally terminate the rental agreement or sue for damages, Ferrell said.

In Ferrell's office, there are several pamphlets available which explain in detail how to go about suing for damages and terminating a rental agreement properly. There are also pamphlets concerning other problems encountered by students.

Deanna Seitz, undeclared sophomore, returned from winter break to find an eviction notice on her door because she had not paid her rent.

Seitz said there was a misunderstanding with the new landlord in her complex, who was unaware that she had paid her rent for the whole semester.

Luckily, Seitz said she had made a copy of the letter from the previous landlord when she paid her rent in full.

Ferrell said it is important to have everything in writing and to keep a copy of it for future reference.

In order to legally evict a renter, a landlord must personally hand the letter to the renter or have it sent by certified mail. In the case of unpaid rent, Ferrell said the landlord must also give the renter five days to pay the rent before eviction day.

Amy Bork, exercise science and physiology sophomore, is on her own for the first time this year and rents a room in a condominium.

"The family I rent from is always there but other than that the first semester went well," she said.

Her landlord keeps the condo in top condition, and she said if something needs to be fixed it is always done right away.

Ferrell said many people often have questions concerning security deposits.

She said the landlord has 14 business days after termination of tenancy to return security deposits in full or deliver an itemized notice of the damages or unpaid rent.

Renters who have not heard from their landlord after 14 days should demand the security deposit be returned within a certain amount of days or a suit can be filed in small claims court, Ferrell said.