By Arlie Rahn


Arizona Daily Wildcat

January 17, 1997


Tanith L. Balaban
Arizona Daily Wildcat

Southern Cal forward Stais Boseman defends UA forward Michael Dickerson in last night's 75-62 Trojan victory in Los Angeles. The Wildcats were forced into a season high 23 turnovers.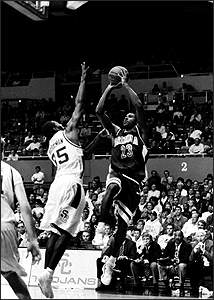 Wildcats turn victory over to Trojans
LOS ANGELES - For the first time this season, the sixth-ranked Wildcats showed their youth.

Arizona (10-3 overall, 3-1 in the Pacific 10 Conference) saw Southern Cal (8-5, 3-2) go on a 19-5 run in the last 3 1/2 minutes to beat the Wildcats, 75-62 in front of 6,156 Trojan faithful.

"Their defense made it really hard for us to get good looks at the basket," UA head coach Lute Olson said. "And when we finally created the open shots, we couldn't capitalize."

For the Trojans, senior guard Stais Boseman had 21 points and senior center David Crouse finished with 15 points and nine rebounds. For the Wildcats, sophomore guard Jason Terry scored 15 points in the losing cause.

Boseman held the Pac-10's leading scorer, junior forward Michael Dickerson (23.6 points a game) to just seven points on three of 13 shooting.

"USC played very well. Stais Boseman did a fabulous job and David Crouse was a big factor," Olson said. "The two things that really hurt us were Boseman's defense on (Michael) Dickerson and Crouse's ability to challenge the drivers in the lane."

Arizona began the game with solid defensive pressure. After 14 minutes of play, the Wildcats had only allowed the Trojans to score 19 points. Yet Arizona had a difficult time capitalizing on their own opportunities and managed just 19 points as well.

"It seemed like we were out of sync from the get-go," Olson said. "It just didn't seem like we were in the flow. And if you are not in the flow at the start, it's hard to get going."

Later in the first half, Arizona did seize the momentum with an 11-3 finish to lead 30-22 at the half. Yet the Wildcats could not stand prosperity and committed four early second half turnovers, aiding a 22-7 USC run.

"You have to give them credit, they played hard," Dickerson said. "Our turnovers in the second half were the difference in the game. We just have to take better care of the ball."

While Arizona put together a 14-6 charge led by three Miles Simon baskets, their lead was short lived as sophomore Donnell Harris committed a questionable technical foul that cost the Wildcats the momentum.

"It was (an) unfortunate situation," Harris said. "He (Crouse) kept on pushing me and I wanted to get him off. I just hope that it wasn't the cause of our loss."

Another blow to the Wildcats was the slow offensive game by freshman guard Mike Bibby. Bibby finished with only four points, spending most of the game in foul trouble. While Bibby declined to comment, Olson thinks that playing against his father, USC coach Henry Bibby, hurt his overall concentration.

"There is so much pressure on Mike with the situation. That, added with their tough defensive play, hurt him on offense," Olson said. "This is his first match-up against USC, and I think it will be the worst for him."

Bibby's mother, Virginia Bibby, was just happy that this Bibby-Bibby showdown had ended.

"It really didn't bother me that much, but I'm glad its over," Mrs. Bibby said. "Things just didn't go his way."

While Bibby's play was anything but stellar, the game was decided by the turnovers. Both teams had 23, but USC scored off theirs.

"When both teams play well defensively, you have to make the most of your offensive chances," Olson said. "What hurt was the number of lay-ups we missed."