By Alicia A. Caldwell
Arizona Daily Wildcat February 5, 1997

Desert hopes to buck national trend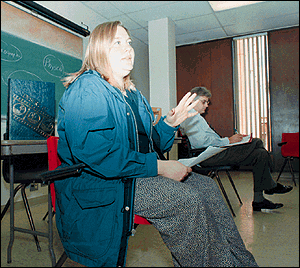 Kristy Mangos
Arizona Daily Wildcat

Valerie Miller, editor in chief of the Desert Yearbook, and Mark Woodhams, advisor for Student Publications, held a forum with representatives from different UA groups to discuss the future of the yearbook. Sales of the publication have declined in recent years.


As yearbook sales are declining across the nation, people are wondering if the once-traditional annuals are becoming a thing of the past.

"Around the country, yearbooks have become a dying breed," said Mark Woodhams, University of Arizona director of Student Publications.

Over the past seven years, the UA's Desert Yearbook has seen a decrease in sales. But the trend is not just a local concern.

According to a December article in the Arizona Republic, students from the University of Hawaii and Ball State University have seen their yearbooks disappear in recent years.

While the trend of declining yearbook sales has prompted some universities to stop production of their yearbooks, the UA has opted not to follow in those footsteps.

To address that problem, the Desert Yearbook held a forum yesterday with representatives from groups including the Alumni Association and the Athletic Department to discuss the future of the publication and the problems it now faces.

Also participating were Rhonda Wilson, Associated Students president, and Dan Maxwell, director of Student Programs.

The forum was designed to gather ideas about how to improve sales, thereby lowering the possibility of a deficit.

Valerie Miller, Desert Yearbook editor in chief, said the staff has made numerous efforts to increase the book's visibility to students.

"We have ads in the Wildcat everyday," Miller said.

Suggestions from the forum ranged from different marketing strategies to redesigning the entire book.

The decline in sales of the yearbook started after 1988. Sales records show a decline of nearly 2,000 sales between the 1988 and 1989 editions. Since then, there has been a steady decrease of about 1,000 books sold each year.

The decline of sales has been attributed to a lack of interest and the feeling that a campus-wide yearbook no longer appeals to students, Woodhams said. No true reason, however, has been linked to this trend as of yet.

"A campus yearbook may be a thing of the past," Woodhams said.

The Desert Yearbook has also experienced difficulties financially.

In recent years, the yearbook has operated with an annual loss of more than $10,000. That number has fluctuated from year to year based on the number of copies sold.

There are no plans to terminate the Desert Yearbook, which has been published for 90 years.

Miller and Woodhams both said they hope to create a student desire to buy a yearbook so that its future does not come into question again.

"We want to rethink the product and come up with ideas to keep it," Woodhams said.