By Arlie Rahn
Arizona Daily Wildcat February 7, 1997

UA hopes to ride the wave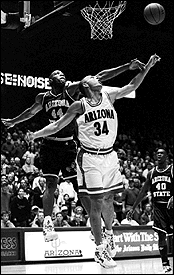 Nicholas Valenzuela
Arizona Daily Wildcat

UA senior guard Miles Simon battles Arizona State forward Rodger Farrington for a rebound Wednesday night in McKale Center.


When the Arizona coaches scheduled Sunday's matchup against Tulane, they hoped to have a nice break midway through their conference schedule. One thing they were not counting on was the Green Wave putting together a streak of 10 wins in 11 games before the meeting.

"They have a pretty good winning streak going, so we'll have to try and knock them off," UA junior guard Miles Simon said. "They have some athletic guys, but I'm confident that we'll be up to the task."

No. 14 Arizona (14-5 overall, 7-3 in the Pacific 10 Conference) is trying to have a repeat performance of last year's 7-Up Shootout. In last season's game the Wildcats used a 70-foot buzzer beater by Simon to defeat the Cincinnati Bearcats, 79-76.

The Wildcats take on 21st-ranked Tulane (16-5, 7-0 in Conference USA) this Sunday at 1:30 p.m. at the Veterans Memorial Coliseum in Phoenix. The Green Wave are led by senior forwards Jerald Honeycutt and Rayshard Allen. The two have combined for 35.6 points and 13.7 rebounds per game so far this season.

"Tulane has two guys that are definite NBA prospects," UA coach Lute Olson said. "I think the guys are looking forward to this game as a good gauge of how we rank against other top teams in the country."

Simon and freshman point guard Mike Bibby have been Arizona's leaders of late. Simon finished with 22 points, nine rebounds and six assists against Arizona State, while Bibby added 17 points and six assists.

For Arizona's Simon and Tulane's Honeycutt, this weekend's game is not their only pairing this season. The two are competing for ESPN's ESPY Award for top college basketball play of the year. The voting in being conducted through ESPN's internet site located at espnet.sportszone.com.

"It's kind of an exciting competition," Simon said. "I think we both have been trying to get votes wherever we can. Hopefully our fans can help me out."