By Ana A. Lima
Arizona Daily Wildcat February 12, 1997

Internet magazine bestows high honors on UAInfo Web site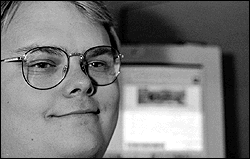 Charles C. LaBenz
Arizona Daily Wildcat

UAInfo, the University of Arizona's information Web site, was given a Gold Award by NetGuide magazine. Brett Bendickson is the Webmaster for UAInfo.


The UA's online information site has achieved a high level of excellence, according to a magazine dedicated to coverage of the Internet.

NetGuide awarded UAInfo its Gold Award after it reviewed 50,000 Web sites and 100,000 URLs.

"NetGuide has a team of online editors who search the Web and honor sites they think are noteworthy," said Michael Dortch, director of special projects for NetGuide.

The magazine's writers and editors awarded the sites one to five stars based on four categories - content, design, personality and ease of use.

The Gold Award was given to sites that achieved four stars, like UAInfo, while the Platinum Award went to the five-star sites.

"It was nice to get notice that you're doing something well," said Karen Warren, principal support systems analyst at the Center for Computing and Information Technology.

However, receiving the Gold Award did not come as a surprise for the UAInfo staff.

Warren said the site has received numerous awards and is listed as one of the Web's "hot 100" for colleges and universities.

"It's gone from a small subset of the campus to really grabbing hold of the Web and running with it," Warren said.

The site was created three years ago. About 100 campus departments contribute to UAInfo, she said.

Brett Bendickson, UAInfo Webmaster and CCIT support systems analyst, said the site averages 50,000 hits per day and peaks at around 100,000 hits per day during the start of the semester. He said a hit occurs when any document is retrieved from the system .

Usage of the site has gone up 200 percent in the last year, Warren said.

A few minutes online with UAInfo can save students a lot of time. Grades, schedules, financial aid information, class availability and the schedule of classes are a few of the services the site contains.

Students can also find curriculum descriptions, faculty listings and contact information for almost all departments on campus.

"The University Master Calendar is online, so you can get a quick 'what's happening today' listing. Gallagher Theater has their movie listings online," Bendickson said.

The Student Link section of the site, designed especially for students, is being updated, Warren said. Starting next semester, the 1997 freshman general catalog of classes will be available online, she said.

Bendickson said the UAInfo staff is a combined effort of a 14-member campus-wide advisory board and a full-time staff of four people at CCIT.

"But the information that makes the site valuable is maintained by over 100 people scattered throughout departments and groups on campus," he said.

UAInfo's main page can be accessed at http://www.arizona.edu.

NetGuide will present its awards March 13 during "Internet World" in Los Angeles. NetGuide can be accessed at http://www.netguide.com/awards.