By Rachel Carasso
Arizona Daily Wildcat February 19, 1998

Senate candidates pledge communication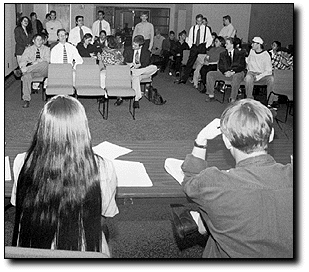 Adam F. Jarrold
Arizona Daily Wildcat

All of the ASUA senate candidates stand to answer a question from the panel last night in the Rincon Room of the Memorial Student Union. The ASUA candidates forum continues tonight with the executive officers forum.


Would-be Associated Students senators said last night at a candidate forum that if they are elected they will end what they see as the Senate's habit of ignoring the student body.

Candidates suggested everything from computer listservs to Senate meetings on the UA Mall in order to get students interested in campus issues.

"I want to improve communication between ASUA and the student body by creating an open forum (once a month) where students can voice their concerns and suggestions," said Senate candidate Benjamin Graff, a biology sophomore.

David Snyder, a candidate and biology and political science senior, said the Senate's overwhelming support for the Memorial Student Union referendum indicated the senators were out of touch. About three-fourths of student voters cast their ballots against the measure while nine of 10 senators supported it.

Sixteen candidates running for the 10-seat ASUA Senate gave two-minute speeches and answered questions on current campus issues last night during the meet-the-candidates forum in the Student Union. Senate candidate Marisa Hall, a history and Spanish studies junior, did not attend the event.

Information, said candidate Michael Dobbs, is the key to exciting an apathetic student body. Dobbs, a molecular and cellular biology sophomore, suggested a campus listserv and a student advisory board to review administration decisions that affect students.

"I want a listserv to be set up that all the students can sign up onto or hear about on there e-mail that can inform them about administrative decisions," he said.

Questioned by a panel of five student leaders representing Greek Life, the ASUA Escort Service and the Residence Hall Association, ASUA, the Arizona Daily Wildcat and the Native American Resource Center, all the candidates said low voter turnout for campus elections indicates a communication gap.

"One of the keys to unity...is to talk to each other, to get to know each other," said candidate Mai Luc, an economics and finance senior.

Eric Hochstatter, a candidate and political science freshman, agreed.

"The students do not even know we have a student government," Hochstatter said.

The candidates also discussed issues ranging from campus security and diversity to privatization.

Some candidates said they became concerned with campus security after Friday's shooting at Park Student Union.

"I think that the UAPD should be more visible at night," said candidate Emily Dunn, a marketing and finance junior.

"No one should ever have to be scared walking home from the library or a computer lab at night," said Brett Suma, an agriculture and resource economics freshman. He said ASUA should increase funding for the Escort Service next year.

The Escort Service received about $50,000 this year.

Several candidates said they were opposed to the so-called anti-affirmative action state constitutional amendment pending in the state Legislature. Candidate Maria Rodriguez, a sociology junior, said she was against the affirmative action bill and is running in part to get more funding for minority groups.

"I want to improve Minority Student Services, as well as expand women's resources," she said.

Candidate Josué Limón, a political science and Mexican American Studies senior, said too often candidates make empty promises about minority student issues.

"A lot of Senate candidates will talk about how they're going to do things but that's not how they're actually done," Limón, president of Movimiento Estudiantil Chicano de Aztlan.

"We need to properly inform ourselves- a lot of people have misconceptions," he added.

Senate candidates had mixed feelings on privatization of the UA Associated Students Bookstore. Some candidates oppose the idea while others think it needs to be explored.

"If I am elected, I will fight against the privatization of the bookstore," Hochstatter said. "If we privatize the bookstore, it will drive book prices up."

A debate for candidates running for president, executive vice president and administrative vice president will be held today at 8 p.m. in the Student Union's Rincon Room.