By Dave Paiz
Arizona Daily Wildcat February 23, 1998

College of Agriculture showcases future of global food production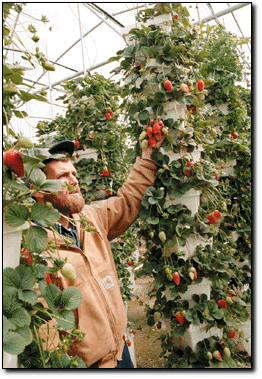 Merle Jensen/Special to the Arizona Daily Wildcat

Whitney Scott, owner of Kehe-Ya Pistachio Farms, shows off strawberries grown with a new vertical system of cultivating called Verti-Gro.

The future of global food production was showcased Saturday as the UA College of Agriculture hosted a whirlwind tour of Southern Arizona's most high-tech farms.
The tour concluded the American Society for Plasticulture's 27th Annual National Agricultural Plastics Congress, a four-day event sponsored by the UA College of Agriculture and held at the Holiday Inn Holidome, 4550 S. Palo Verde Road.
"The face of agriculture is changing," said Merle Jensen, UA College of Agriculture's assistant dean for sponsored research and the conference's program chairman.
Jensen said his current projects include growing horticultural crops out of season by modifying the growing environment, as well as a NASA project comparing plant growth in liquid versus solid environments.
"(The event) is like going to a car show to see the latest model," he said.
Saturday's tour focused on large and small-scale greenhouse operations which are dramatically increasing crop yields with innovative techniques that conserve space, water and energy.
About 60 miles northeast of Tucson lies the town of Bonita, a collection of widely scattered homes near the base of Mount Graham, whose dominant feature is a pair of sprawling 40-acre greenhouses owned by Bonita Farms Inc.
"This greenhouse is a work of art," said Tim de Kok, one of the growers at Bonita Farms.
Rooted in small cups of a fibrous material called rockwool, hundreds of rows of tomato plants hang in thick bunches, their weight supported from above by thin nylon cords.
"Arizona has the highest radiation in the world in the wintertime, so we can produce a high-quality tomato," said Bonita Farm's senior grower, Jan de Kok.
To maximize Arizona's naturally abundant sunshine, the greenhouse ceiling is made of a special glass which absorbs more light than conventional glass.
During the day, Bonita's growers enhance plants' natural photosynthetic processes by pumping in carbon dioxide produced in the greenhouse's massive boiler room. The boilers heat water used to irrigate the plants and maintain an ideal greenhouse environment both day and night.
Each of the two greenhouses' 240,000 plants receives a precisely measured amount of nutrient-rich water each day which is continuously recycled, sterilized and re-used.
With so many plants, pollination is far too tedious for the growers to do by hand, so they instead use bumble bees shipped via Federal Express to do the job.
By carefully controlling plant pollination, watering, fertilization, and environmental factors such as temperature and humidity, each greenhouse can produce an annual yield of 250 tons of fruit, Jensen said.
"The idea is to get the crop in the air to produce on a cubic volume basis," he added.
A 10-acre greenhouse in nearby Willcox is using techniques similar to those being used in Bonita.
In addition to the Herculean operations in Bonita and Willcox, space-saving technology is also being used to grow strawberries on a pistachio nut farm farther to the south.
In Cochise, just south of Willcox, the Sehe-Ya Pistachio Farm is growing greenhouse strawberries in vertically stacked Styrofoam planters. Each column is drip-irrigated from the top down and vertically supported to prevent it from toppling over.
Billing itself as "the world's leader in vertical growing technology," Verti-Gro Inc., of Kissimmee, Fla., is marketing this new growing system that could revolutionize the way indoor farming is done.
There are 10 planters in each column. Their unique stacked arrangement allows four plants to grow in each, for a total of 40 plants producing an average of 10 to 15 pints of fruit per column.
"This system produces six to eight times the normal field yield," said Verti-Gro President Tim Carpenter.
The plants here are grown in a mixture of perlite and vermiculite, organic materials known for their capacity to insulate and absorb water.
A report issued by the company said the Verti-Gro system is highly portable, inexpensive, water-efficient and cleaner. No weeds and few pests means no herbicides and less reliance on pesticides to control insects.
Although Carpenter developed and tested the system on strawberries, it can be used on a variety of small-rooted crops such as lettuce, spinach and herbs.
"The future looks great - there's a lot of research being done at universities and a lot of growers picking up on this technology," Carpenter said.
"This is next millennium technology," Jensen said.
Although the UA does not currently offer a program in high-tech farming methods, Jensen said that these and other innovations, such as raising fish in irrigation canals, are changing the face of agriculture to adapt to the demands of global population growth.
"As we try to face increasing populations, we try to economize resources," he added. "With limited water and more people we need to economize production and develop technologies for increasing food production for spaceship earth."