By Susan Carroll
Arizona Daily Wildcat February 27, 1998

KAMP fee goes before Board of Regents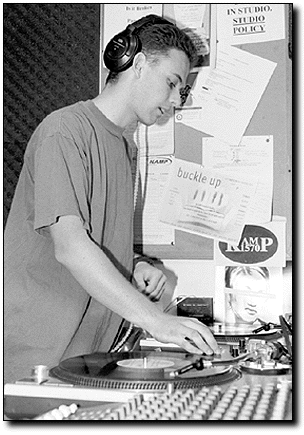 Tanith L. Balaban
Arizona Daily Wildcat

Freshman Will "DJ Gringo" Abraham spins records for his hip hop show yesterday at KAMP Student Radio. The Arizona Board of Regents votes today on the $1 student fee that would fund the radio station for the next five years and help make it fully functional.


KAMP Student Radio faces a crucial hour today as an optional $1 student fee, which would fund the station the next five years, goes to vote before the Arizona Board of Regents.

"It's time now for the Board of Regents to move it along - they need to give it either a thumbs up or a thumbs down," said Director of Student Publications Mark Woodhams.

The fee, which will take effect in May if approved, will add $1 to students' tuition each semester for five years. Students not wanting to pay the fee can request refunds in writing at the Bursar's Office.

"The money is a big step," said KAMP General Manager Adlai Wilson, a geography senior. "We've made a lot of progress in the past two years."

Last March, 74.5 percent of student voters approved the optional fee after more than 250 KAMP employees pushed the issue onto the student ballot by collecting 4,222 signatures.

"It passed by an overwhelming majority," said ASUA President Gilbert Davidson. "On a campus this size, it's almost crucial to have a solid-working station."

Davidson said the station will improve communication and keep students better informed.

A report to the regents states that the fee, which will generate about $30,000 a semester, will be used to make KAMP a "fully functioning station."

The Federal Communications Commission currently prohibits KAMP from broadcasting its 1570 AM frequency outside university boundaries because it could interfere with outside stations.

The fee would help fund an application to the FCC for a broadcasting frequency with a larger area, West said. He said the majority of the money will be used purchase a new antenna and update 10-year-old equipment.

"The $1 fee is going to help KAMP lay the groundwork for the future," said Chip West, interim coordinator of KAMP. "There's a great potential with the fee - It can be anything students want it to be."

KAMP began looking into the fee in 1991, and found that most colleges charge students to fund on-campus radio stations, West said.

Woodhams said KAMP currently can not advertise or seek sponsors to underwrite programs because it is a non-commercial station, but predicted a different future for KAMP upon FCC approval.

KAMP used to received about $3,000 a year in funding from Student Programs through the Memorial Student Union. After KAMP's merger with Student Publications this semester, the amount was increased to $8,700, Woodhams said.