By Mary Fan
Arizona Daily Wildcat February 27, 1998

Williams slams Taylor for double-dealing on Union issue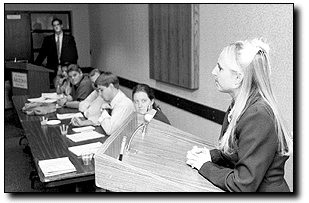 Matt Heistand
Arizona Daily Wildcat

Political science and public management junior Tara Taylor and communications and marketing senior Patrick Williams, ASUA presidential candidates, debate yesterday in the Memorial Student Union.


The specter of last semester's failed Student Union referendum rose again at the ASUA presidential debate last night when a candidate accused this year's executive officials of failing to represent students' interests.

Presidential candidate Patrick Williams accused opponent Tara Taylor along with President Gilbert Davidson and Executive Vice President Casey Cuny of favoring the Integrated Instructional Facility over Memorial Student Union renovations without asking students what they think.

"What we had was an opportunity for the Student Union," Williams said. "They had to concede the IIF building (so) they would get the Student Union."

Williams told about 25 people gathered in the Student Union's Tucson Room that Taylor, Davidson and Cuny spoke before an April 1997 regents meeting and said University of Arizona students supported the IIF building when there was no proof that the student body liked the plan.

Now completion of the IIF building is on schedule while Student Union renovation plans lag a year behind, Williams said.

Taylor disputed William's assertion and said there was no trade off.

"I think that even though (UA) President Likins said we must go forward with the IIF building, we can still say we want the Union fixed," said Taylor, the other presidential contender.

Williams retorted that Taylor, was indeed reversing an earlier stand in placing the IIF building as a higher priority than the Student Union renovations.

"That's really disappointing that you're playing both sides," he said.

Taylor said now that it is too late to halt IIF construction, it's important to support what is in progress while also maintaining student union renovations as the primary consideration.

"We have to play both sides," she said. "You don't have to choose either the IIF or the Student Union, we have a right to say what happens with both issues."

Last fall, nearly 75 percent of student voters rejected a $40 fee that would have funded about half of a proposed $70 million Student Union renovation project. The $10 million underground IIF classroom building received Board of Regents approval in the fall of 1994 and is slated for completion by June 2000.

The two candidates also haggled over privatization as a source of funding for the proposed new Union and whether another referendum was necessary.

"Blanket privatization is definitely not the answer," Taylor said, but Williams argued that privatization could lower building costs.

The two split again on the idea of a new Union referendum for a possible student fee.

"I bristle at the prospect of shifting costs to students," Williams said, before last night's debate. Taylor, however, said she is awaiting more input from a committee studying the matter.

Both candidates agreed the UA Athletic Department's pending Nike contract was an issue that hinged on morality, and both said they would not dispute Likins' support of the contract. Both also said they planned to target low student retention rates by fighting for improved academic advising and increased publicity for programs that help strengthen student ties to the university. They also joined in opposing any anti-affirmative action measure that could cut university minority programs. The Arizona Senate defeated such a measure Wednesday, but proponents vowed to bring the issue to voters as a ballot initiative.