By Craig Anderson
Arizona Daily Wildcat February 27, 1998

Students concerned about shootings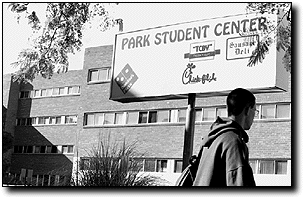 Charles C. Labenz
Arizona Daily Wildcat

Residents at the Kaibab-Huachuca Residence Hall are concerned about their safety after a shooting outside the Park Student Union earlier this month. The hall is located just north of the Union.


Kaibab-Huachuca Hall resident Jodi Webber says she is afraid to walk home after dark, particularly when she has to pass the Park Student Union.

"There are always people milling around at night," the sociology freshman said. "It's scary."

Webber and other Kaibab-Huachuca residents are still shaken by a late-night shooting Feb. 13 in the alley between their home and the university-operated food and convenience center.

Several of the 342 students living in the hall, located just south of the Union, said they witnessed or heard the shooting and feel lucky that none of the 10 to 12 bullets fired hit Kaibab-Huachuca residents.

Residence Life Director Jim Van Arsdel said he's concerned for the safety of the hall's residents and has spoken to Dean of Students Melissa Vito about it.

"The issue is what kind of policy to have concerning parties at the Union," he said.

In the recent incident, two 19-year-old Tucson men were shot in the alley between the hall and the Union about midnight when a fight outside of a Delta Sigma Theta-sponsored party escalated into gunfire. Both men were later released from University Medical Center after being treated for leg and foot injures.

Police arrested two men shortly after the incident.

"I think it's apparent that they don't control the area well," said Stephen Rust, a history education junior.

Rust said that, in the past year alone, two shootings have occurred outside Kaibab-Huachuca, but he doesn't want to move because "It's convenient."

Webber, who witnessed the shooting from a fourth-floor window in Kaibab-Huachuca, said she was already afraid to leave the hall at night because of the suspicious-looking people who hang around the Union.

Undeclared freshman Lory LaPoint said one way to make the area safer would be to have security personnel checking for student identification at the door, particularly when there are parties at the Union.

"People who aren't students shouldn't be allowed to go," she said.

Van Arsdel agreed.

"Any party open to the non-university community creates a situation that is much less controllable," he said.

Neither the two alleged gunmen nor the victims in the Feb. 13 shooting were University of Arizona students.