By Mary Fan
Arizona Daily Wildcat March 2, 1998

Presidential candidates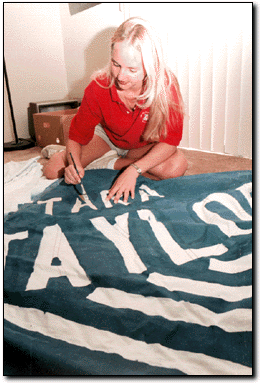 Adam F. Jarrold
Arizona Daily Wildcat
Political science and public management junior Tara Taylor paints one of her campaign banners on her kitchen floor Saturday afternoon.
Tara Taylor
This year's administrative vice president, Tara Taylor, said her record reflects her commitment to achieving her campaign goals - and her biggest goal as president is to target sagging student retention rates.
Last year, Taylor ran on improving the cohesiveness of ASUA, creating a toll-free number for the Escort Service and turning Spring Fling into a profitable enterprise after six years of losing money.
The Escort Service's number is in place, ASUA holds internal "town hall" meetings to trade ideas and Spring Fling is pursuing a new plan to bring in more revenue from the community while operating on a stripped-down budget, she said.
Taylor, a political science and public management junior, now wants to turn her attention to student retention, she said.
She said with retention rates hovering at 52 percent, helping students keep their heads afloat through their entire college career is critical.
As a resident assistant at Coronado Hall last year, Taylor said she has seen first-hand the problems that sap students' desire to remain at the University of Arizona.
"I've dealt with students coming into my room and saying 'I just can't stand this anymore,'" she said. "And it's not because this isn't a great institution."
Losing students doesn't just hurt the ones who quit, it also financially impacts the students who stay, she added.
"The more students we lose the more tuition is raised to make up for the lost tuition," Taylor said.
She said she wants to attack low retention rates on three levels - through the state, university and ASUA.
At the university, Taylor said she wants to improve advising.
"Maybe students aren't well-informed enough, maybe the adviser's just not there," she said. "There's a lot of issues that lead to students feeling like they can't hang in there but when it's something really tangible like advising we should get on it."
Taylor said she wants to initiate evaluations comparing advising across colleges, then make recommendations based on data collected from polls conducted by the Office of Academic Services.
"This is going to be a huge project that's going to start from scratch," she said. "I'm only going to start all of this, but it's so important."
This will be a start in measuring up to the state's expectations of the university's retention rates, Taylor said.
At the ASUA level, she said she will make certain all officials are doing their jobs - including Senate outreach to students.
"If people aren't doing what's set forth for them to do, we'll find someone who can do the job," Taylor said.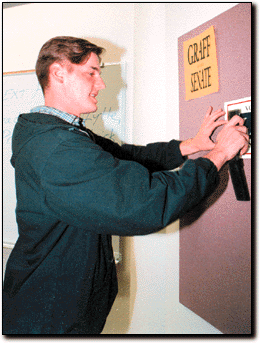 Katherine K.Gardiner
Arizona Daily Wildcat
Communication and marketing senior Patrick Williams staples his campaign flyers in the Harvill building Friday night.
Patrick Williams
Patrick Williams, a communication and marketing senior, said ASUA has grown lax and he wants to be the president to push it back into shape.
He said the Associated Students have lost touch with the student body.
"Our biggest problem is student government is designed for the students and we have failed in that measure," Williams said. "We have student leaders that, though well-intentioned, don't represent the students."
He said the communication break is exemplified by the failed Memorial Student Union referendum.
UA students rejected a proposal Nov.18 and Nov.19 that would have helped fund Student Union renovations through a $40-per-semester fee. Nearly three-fourths of student voters were against the idea.
Williams said he is adamantly opposed to both a student fee and another referrendum.
"I bristle at the prospect of shifting the costs to students," he said.
Williams said he wants to see food services audited to determine whether privatizing them would cut help costs for a new Student Union.
He also said he wanted to hold all ASUA officials to their job descriptions and he will not hesitate to use his presidential power to withhold stipends.
"If you are paid to represent students and you don't, why should you get paid?" Williams said.
He said past presidents did not wield the power to withhold stipends aggressively enough to command respect.
"It's a veiled threat," he said. "They know it won't happen."
Williams also said if elected he would amend ASUA's constitution to include more checks and defined expectations for officials.
He also said he wanted to turn his attention to sagging student retention rates.
The failure to meet students' needs in terms of advising, finances and special services for nontraditional students may play a role in losing students, Williams said.
"It's not just a freshman issue," he said.
The UA is the only Pacific 10 Conference school without a university-funded childcare program, Williams said, and he wants to petition the administration for one.
Williams also said he wants to lobby the Legislature more aggressively to keep students in the tuition setting process, thereby keeping college costs and the number of students who drop out of school as low as possible.
"Often student government takes a reactive role, so no one is exposed to student input until it's before the Board of Regents," he said.
Williams is this year's clubs relations director on Spring Fling, and he served last year as academic affairs adviser on former President Rhonda Wilson's cabinet.